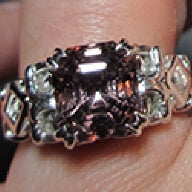 Joined

May 1, 2011
Messages

248
I'm in the design process of my ering and have a couple options in getting my center stone set.

I'm working with Green Lake Jewelry Works and they have a stone loss guarantee replacement program should I lose my center stone or any of the diamonds they set. I guess they determine the cost of setting the center stone by the value of it. I would assume, the more expensive, the more it is to set.

My local jeweler said he'd set the stone for $200.00. But we didn't talk about a loss/replacement possibility.

Dumb question- how do I figure out the value of my center stone since I bought my stone from one vendor and then had it cut by someone else? Just not sure how to go about this. Advice?

Thank you!