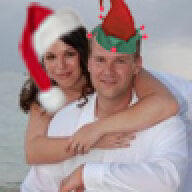 Joined

Jan 8, 2007
Messages

3,962
hahaha actually mrs.mitchell, I see that you DID see the movie. lol. I should have paid more attention.
C--I think I just need to get out there some more.
The only time I had a chance to try on different colored diamonds was when I went to Jareds, but they don''t see anything lower than an I. I could definitely see the color differences, but it didn''t really "bother me" I don''t think.
We also went to Robbins bros. Both stores were kind of pushy...Robbins Bros WAY more pushy than Jared, and we didn''t even get to see a diamond, they just wanted us to pick a setting. It was awful.
Anyway, after those experiences my boyfriend was so mad at the way we were treated. (Not that we didn''t expect it) but since then...and it''s been a year...he has been putting off getting back out there to look at some more. I think Robbins bros left a really bad taste in his mouth.
So, I''m not sure what to do. I''m scared of how I''d be treated if I went by myself! I just know that an I color doesn''t bother me....I haven''t seen any lower colors though!