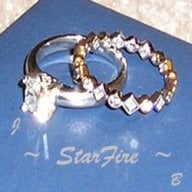 Joined

Mar 24, 2007
Messages

6,232
After hours and hours of unsuccessful searching for surprise diamond settings online, I found the perfect one...at Costco! We found out they have a great return policy (in case it turned out to be a bummer), so we made the purchase. The thing is, we like it more for the setting than the diamond. I do think the diamond is very pretty, and I'll post pics once I can get it in some better lighting, but I'm not sure if I should stick with this or just have the setting custom-made and pick a better-cut diamond. Now, I know Costco isn't too highly respected around here, so I'm not expecting to hear that it's a top-quality stone, but I'd like to know if we at least made a good buy.
Unfortunately, they don't give too much info about cut, and it's IGI-graded, but here we go...
1.08 ct
I/VVS1
Princess cut
Dimensions: 5.86 x 5.61 x 4.01
Depth: 71.5%
Table: 74%
Girdle: thin to medium
Culet: none
P/S: VG/VG
Fluorescence: faint
Surprise diamonds: 0.10 ctw, Princess, G-H, VVS2/VS1, P/S G/G
Setting: 950 Platinum with surprise diamonds and double prongs
Price: $4399 + tax (about $300)
Appraisal value: $13,030 (yeah, right...)
I'd like to get it GIA-graded if I decide to stick with it. Anyone know any good appraisers in the Pittsburgh, PA area?
Here a craptastic pic, just to show you what the setting looks like
And on my hand.