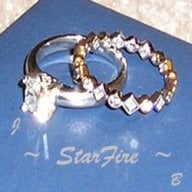 Joined

Mar 24, 2007
Messages

6,232
Hi everyone!
I've been looking for the perfect surprise diamond solitaire setting, but so far everything I've found has been a little bit off the mark. Here's what I'm looking for:
-Fits a ~1ct square or cut-corner square stone (
WF
X-factor, Lucere, Flanders, Asscher...)
-Surprise diamonds are easy to see, not hidden under the center diamond
-Low profile (this is *very* important as I'm in the medical field and use my hands all the time, possibly exposing the ring to damage if it's too high)
-Narrow band, preferably with shoulders that don't slope up too steeply
Now here's what I've been liking in general, along with what I don't like about each:
1)
WF
Flush-fit cathedral setting:
http://www.
whiteflash
.com/Engagement-Rings/Styles/Solitaire/-Flush-Fit--Cathedral-Style-Ring_1065.htm#
Too high-profile because it's meant to rise above a wedding band, but otherwise I like how the surprise diamonds and the rest of the setting fit together.
2)
WF
Fine Line Solitaire:
http://www.
whiteflash
.com/Engagement-Rings/Styles/Solitaire/-Fine-Line--Platinum-Solitaire_691.htm#
Very close to what I want, but doesn't have surprise diamonds. Tapered shoulders as shown here are EXACTLY what I want. Does anyone know if this setting could be modified to add surprise diamonds so it would look similar to #1? That would be PERFECT!
3)
WF
Surprise Diamond Comfort-fit ring:
http://www.
whiteflash
.com/Engagement-Rings/Styles/Solitaire/Comfort-Fit--Surprise--Diamond-Ring_765.htm#
Nice tapered shoulders and low profile, but I don't like how the area with the surprise diamonds tapers so sharply and slopes in under the center stone. It hides the surprise diamonds too much.
4) D. Vatche Surprise Diamond Setting:
http://www.
goodoldgold
.com/setting/V-150/
Way too thick and upsloping at the shoulders, as well as too high-profile, but the area in the middle with the surprise diamonds is very close to the shape I'm looking for. But bascially, if you could take how the surprise diamonds fit into this setting and transpland that into #2 (
WF
Fine Line), that's what I want!
Hopefully that gives you all an idea of what I'm looking for. Can any of you recommend another setting that just might have everything that I'm looking for? If it makes a difference, I'm leaning toward buying from
WF
and in particular their X-factor diamond...
Thanks!