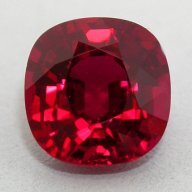 Joined

Aug 1, 2006
Messages

63
I thought I would start a new thread beucase my first isn''t really getting responses anymore. I''ve recieved my first ruby today. It''s a cushion cut 1.5 carat burmese ruby. I have two weeks to return it, and will incure no cost. My question is, what do I do with these two weeks?

I''m meeting another jeweler or two that will be showing me more rubies. Hopefully that will give me some comparison. It already has a GRS cetrificate with no indication of thermal treatment so I dont think I have to send it out to a lab (or should I). Have it apraised? Cuddle with it?

I''m excited to see how it changes in different lighting. So far I''ve only seen it in office lighting and cloudy mid day outdoor type lighting. I''ll try and get some pictures up in a day or so.

14 days and counting. Any words of wisdom?