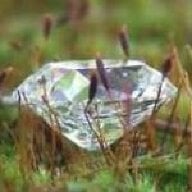 Joined

Jun 29, 2006
Messages

11,071
Date:

9/20/2006 12:18:49 AM

Author:

Scott 00

Sigh, a great stone with a very capable photographer make a beautiful but dangerous mix... I feel like I want another loose stone now

But in all seriousness, I DEFINITELY know what fun you must be having taking all these pics of your ''free'' stone and just like a young child, full of so much potential! You envision melee, baguettes and metal in different configurations, and while it is deeply gratifying to have a worthy throne for that gem of yours, its a somewhat less free and fun but thankfully the tradeoff is having on your hand to be your personal amusement all day long hehehe. If i am smart I''ll get a nice Cz of an Asscher to ease my craving for one (that is next on the wish list)... though I''ll have to wait a few years

Thanks for the pics and more are always appreciated!
oh ha! I missed this!!! LOL I guess you did see the moss people LOL
I am having fun with it, almost don''t want to set it LOL Except once it is set then I can take it and see what it does EVERYWHERE not to mention my pics will be much nicer with a ring instead of that pop can ring LOL
I''m already thinking okay... I need a NICE watch with some diamonds, I need a pendant, I need a white gold bracelet with just a spattering of diamonds (not dense like a tennis bracelet), I need a rhr with a huge garnet, nice and blood red, maybe a square cushion with a funky alternative top faceting hehehehe
Anyway I came here to post some pics so I''m gonna...
this one I call christmas flare - I swear up close all you see is red and green and yellow lol