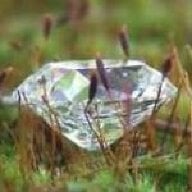 Joined

Jun 29, 2006
Messages

11,071
Okay... all of my thoughts are going to come later, I''m still digesting a lot of this... so I''ll just post some pics and give some info and then maybe we can discuss some stuff... This stone is not an antique stone, it was cut and graded in April of this year. It has classic OMC facets but very modern lines... you''ll see in the pics.
This is a GIA cert "Old Mine Brilliant"
Carat weight: 2.71
Color: J
Clarity: VS2
Depth %: 66.1%
Table %: 53%
Crown: 20.04%
Symmetry: Very good
Polish: Very good
Girdle: Medium to thick, faceted
Culet: Slightly large
Fluorescence: Faint
Measurements: 9.53 x 7.58 x 5.01 mm
Length/width ratio: 1.26
Oh, and it''s *way* harder to get clear shots than I thought LOL!!! This first one is not the clearest really but it''s my favorite so it''s going first...