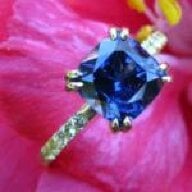 Joined

Sep 3, 2009
Messages

7,768
Italiahaircolor|1307752313|2942961 said:

What I think is probably going to happen to validate Baez's opening states is he'll either produce one juicy bombshell that will leave us all shocked. OR never mention it again. He doesn't have to back up his claims, and the prosecution can't touch him if he doesn't.

Baez has objected to nearly every bit of evidence and has asked for a mistrial on numerous occasions, all of which has been denied by this judge, If he can strategically bait the prosecution into even questioning the validity of his claims or remark on not having had those claims backed up...BAM...mistrial.

we all still really remember his opening statement. The prosecution, if they want to negate that, has to in some fashion acknowledge it and speak up against it...otherwise, it's still there, festering and raising reasonable doubt if the jury follows the letter of the law.
The prosecution CAN mention Baez's contention of abuse even if Baez does not. In closing statements they can say, "Defense's opening statement claims Casey was abused. They presented nothing to back that up. Where's the evidence? She admits she lied & lied about other stuff. What would make anyone believe her on that without corroboration?" It would be devastating.
To get the abuse in evidence & not just ignore it, they have to call witnesses to attest to it. Surely George Anthony again, and he will say NO I NEVER ABUSED HER. The brother too. Likely to be believable since the jury knows Casey never tells the truth when a lie will get her something. Did she ever tell a friend? Did her doctors throughout her life find anything to arouse suspicion? I doubt they can prove it through a dr. because the allegation is not true. Very hard to put that over without putting Casey on the stand.
Here's how they might try it: on cross examination, opposing counsel is allowed to ask ONLY about the witness's statements during direct examination. Baez could keep his questioning VERY narrow -- confined to alleged abuse & not a word about anything else. Then the prosecutor could not ask, say, about the chloroform computer searches or any other subjects if Casey didn't bring them up. However, if the witness says ANYTHING relating to some other issue, it opens the door for opposing counsel to refute it. The big danger: Casey can't keep her mouth shut. She embroiders stories, makes them elaborate. Bound to open some door for further questioning on a subject the defense doesn't want her to testify on, that will show she's baaaad. It will be interesting to see how Baez deals with all this.
--- Laurie