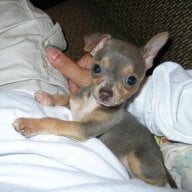 Joined

Dec 16, 2007
Messages

5,184
lizzyann01|1307665444|2942079 said:

yeah, that girl has LIED since this whole thing started. I still haven't pieced together exactly how that poor baby died but Casey was responsible IMO. The cadaver dog finding something in the backyard has me baffled. Thoughts?
The general thought process on the whole cadaver dog hitting is this...
Casey borrowed a shovel from a neighbor across the street a few days following Father's Day, or rather, the last time Caylee was seen alive. People speculate that Casey borrowed the shovel to bury her daughter in the back yard and there was freshly turned earth to back that up. The dogs would hit, say, if Casey set Caylee's decomposing body down for a period of time while she attempted to dig a grave.
I found it interesting, though, that Baez didn't jump all over the dogs to better align his theory, or rather, his story. He could have easily said-- "yes, Caylee died in the back yard, of course the dogs would hit because she was there and she was dead...thank you for your time" -- but he didn't. Which, IMO, doesn't add up. He attacked the notion that Caylee was EVER in the back yard and that the dogs gave a false positive. Which, of course, negates his entire defense...but I don't know if anyone else picked up on that...