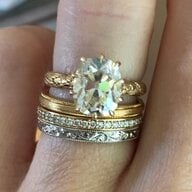 Joined

Jan 2, 2014
Messages

1,659
Here's a rough idea of moving up your diamond by 1mm, what that looks like in relation to the emeralds.

You can also see that then leaves a gap inbetween them to play around with as well.
Yes that looks much better thanks for doing that. I've asked DK to make the emeralds smaller (4mm) as well which should help with the height but I'm not sure it's the right thing to do yet as face down I like the proportions with the 4.5mm stones. Maybe height will be enough.
DK said not to worry about the engraving, it wouldn't be a problem with that getting scratched.