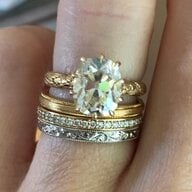 Joined

Jan 2, 2014
Messages

1,399
So I just got this cad from DK. It's for an antique cushion with a wrap to make it look like a diamond and emerald 3 stone. I will want to wear as both a solitaire and a 3 stone look which is why I want to go for this option. The ring will be yellow gold with raised and engraved floral details, Victorian in style. It's not going to have the detailing currently shown in the cad.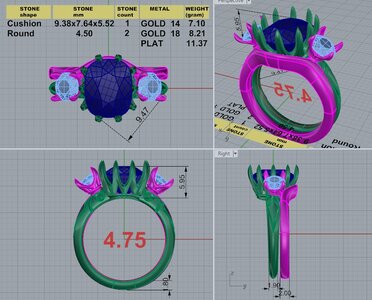 I would be so grateful for those knowledgeable with cads to suggest how it might be improved.
@Niel
@rockysalamander
and
@Rfisher
- I have just been on your thread about your 3 stone which I love and would be very grateful for your input.
At the moment my main thought is the emeralds are too high, so a lot of my thought process is based on trying to get them to sit at least level with the diamond.
- reduce size of emeralds to 4mm
- reorientate prongs on diamond so there is one in the north and south position I don't like how they are configured at the moment.
- Reduce the depth of the shoulders so the emeralds can sit lower.
- raise the setting height of the diamond.
Has anyone got any further suggestions?