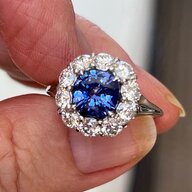 Joined

Aug 18, 2013
Messages

7,097
Hallo,
@Dandi
-darling! Yes, I have SPECTACULAR friends. They were planning to come over for my birthday, but, sadly, Covid turned their visit into a video recording. But they made a point of getting together yesterday and singing me happy birthday, recording it, and sending it over - how can you not love that?? And my best friend in the US cancelled all his plans for today so he could be around all day, just in case I feel like chatting - how nice is that? My darling husband is running around Boston picking up wonderful antipasti and champagne and cupcakes, and is also currently mopping the floors! And a wonderful Pricescope friend - @HudsonHawk, with whom I've been friends for over 10 years, is coming to lunch. We intend to drink a little.
My home is filled with flowers and nice smells and even the weather is clear and blue. Seriously, I don't really see how this could have turned out any better, Paris or no Paris. Thank you for your very kind wishes - I shall honor them by having the best day EVER! <3
@X5M
- I'm kind of silently pleased you noticed that.

I would say the main pursuit of my collection in the last 10 years has not been 'new pieces', so much as it has been 'a higher standard'. I've had so many things tweaked in their construction, or the quality of the gems used. I would probably rather have 3 very good things than 1 great thing - but I would *definitely* rather have 1 great thing than 10 things that were so-so. And now I'm going for a whole collection of outstandingly curated and constructed pieces. And - seriously - that's a lifetime pursuit.
Hi
@caolsen
- thank you for that! Sadly, Boadicea (I've intentionally chosen her anglicized name) is thought most likely to have taken her own life when she was unable to overcome the Romans. But we're Just. Not. Going. There. The truth is, we all go down in the end. But we can give up before we try, or we can go down fighting. As for me, I will throw down my sword *just* before I pass through to the other side! And, gladly, that's when I'll meet my True King. I will do all I can to avoid that day - but when it becomes inevitable, I will cross over with gusto and humility, knowing I'll be going to places and people far and away beyond myself.