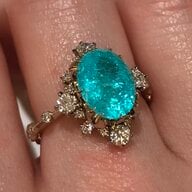 Joined

Aug 25, 2014
Messages

690
It's only right to credit where the inspiration came from afterall!
I 'have' the stones, but have never actually laid eyes on them...
As I'm from Australia, I often buy from the US and have pieces made there. 2-3 years ago, I was buying regularly and a LOT from CVB. So when she listed a sapphire for sale at that time, I jumped on it. She also offered me a suite of OMCs to go with it which I took. Then life happened, and I put all projects on hold for a few years while I was sorting myself out.
For this reason, I have a little trove of treasures just sitting in CVB's safe waiting for me to set them one day. Seeing your thread has prompted me to think that maybe now is the time.
The sapphire I have with her is a 2.14ct Portuguese cut (with a cutlet!) round unheated stone about 7.8mm
she still has some old photos and videos on Instagram of it from 2018 which I visit now and then lol! The OMCs are a suite of 12 stones weighing a touch under 1.5ct. So she will be a bit of a mix of old and new cuts.