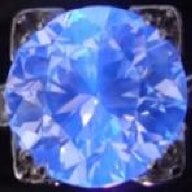 Joined

Apr 26, 2007
Messages

8,087
So ... I did it! I got earrings! And they have strong blue fluor, which is my personal pet hobby horse, and which was the sticking point for a lot of vendors.
I contacted a number of vendors for this project -
GOG
,
BGD
, JBEG, and a couple of dealers specializing in antiques on 47th (not to mention hunting through
BN
, and eBay). Everybody I talked to was courteous and helpful, but the fluor was a challenge for a lot of dealers. Except Yekutiel at
ID Jewelry
! I'd read a lot about ID on the boards before (Bliss's gorgeous earrings come sharply to mind!) but I'd never dealt with them before: after working with them, I'd recommend them
very
highly. Yekutiel found me a .72 H SI2 with strong fluor on the spot, and found a .71 match very shortly thereafter. Proportionately, both of them come in around 5.7 mm ... and, best of all, they're H&A! One of them is engraved as such, the other unbranded and just as pretty. They score beautifully on the HCA at 1.6 and 1.7 (and Yekutiel can do the calculations for them in his
head
- v. impressive to a girl who gets tangled calculating the tip). I had them set in WG to keep the cost down, and milgrained for the antique look I wanted: once I decided to get them, they were ready inside of a day. Now
that's
customer service!
Aren't they purty?