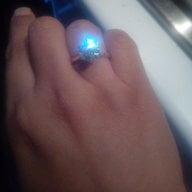 Joined

Apr 2, 2018
Messages

316
Thanks,

@kathley

! Consider me stunned, also!

Hi

@Rpb

. Your post made me want to ask you to describe your dream ring. Are you hoping for a cluster one day? For warm stones? For a yellow gold setting? I'd just love to hear your mental image of what equals sublime.

Hallo,

@MissGotRocks

! Truth be told, I have guests arriving at the airport at 6.30am on Saturday, and staying till Tuesday evening. I'll try to get some photos up before then - hopefully Saturday. I have to say, I'm more keen than anyone to see this on my hand!!
@mrs-b
my dream ring is in yellow gold, definitely halo (cluster) with an AVC, I don't mind warm colours as I am not that colour sensitive...and with melee from Yoram I think that would be perfect icing on the cake...though I would like mine with a split shank...