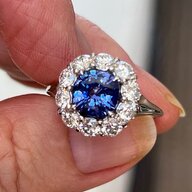 Joined

Aug 18, 2013
Messages

5,949
Last year I bought a gorgeous, R colored 1.97 AVC. It's spready for a cushion - 7.55 x 7.35 - and that perfect AVC shape.
I shipped it off to DKJ and at the same time contacted Yoram at Gem Concepts, asking if he'd be able to supply me with 2.7mm melee of a matching color. I had gone back and forth with the idea of bright white, contrasting, surrounding stones, but in the end couldn't get past the mental picture of a ring that reminded me of dawn across the ocean on a summer's morning - that beautiful golden wash of color. Neither Yoram nor I thought it would be easy to find melee of that tone, but suddenly a parcel of warm OECs crossed his path, and he snapped them up, re-cut them, and they were on their way out to me in a matter of a couple of weeks.
And let me just take a moment to confirm what everybody else says; Yoram is a gentleman and a master of his craft. And his prices - most surprisingly to me - were excellent. I will definitely do business with him again. When my diamonds were held up in US customs, he went above and beyond, doing all that he could to successfully get them delivered to me while keeping stress at a minimum. As I said - he's a true gentleman.
Once DKJ received the melee, it was a straightforward process to them to bring this beautiful ring to life, and this evening I received the attached video. The ring will reach me on Saturday morning, and she will be a glorious addition to my collection.
@Rhino
- thank you for this STUNNING diamond, and for all your help in getting it onto my finger! August Vintage is the shizzle, baby!
@diagem
- thank you for those perfect little masterpieces and for all your help at a stressful time.
And to DKJ, as always -
perfect!
And now the video!
Last edited: