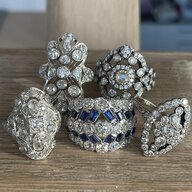 Joined

Sep 9, 2020
Messages

3,282
Thank you! ❤️

Thank you! It really is so versatile and I'm all about wearability options when it comes to my non-ER rings lol I do consider myself very lucky that my ring finger and pointer finger are only about .25 to .5 sizes apart. I prefer to wear my rings a tad loose over tight so I've been sizing all of my non-engagement rings to fit my index finger and I can get away with wearing them on my ring finger. I was playing around with it and I discovered that it actually also fits on my left middle finger (once it squeezes over the knuckle) and I love the look!

LOL thank you!! I've been experimenting and I prefer it pointed down on my middle and pointer finger and pointed up on my ring finger!

LOL will this do??
She looks SO perfect on your middle finger!
Last edited: