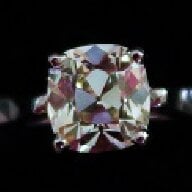 Joined

Dec 6, 2006
Messages

1,630
Hello my Pricescope friends!!
I present to you my 20th wedding anniversary upgrade!

Time line
Engagement ring - .29 H RB - crappy cut (no kids!)
10 year upgrade - .41 G SI2 princess cut set with trillions (Canadian diamond) (2 kids!)
20 year upgrade - 1.17 K VVS2
(3 kids!)
Before I proceed with the pictures, I would like to thank
Good Old Gold
for a terrific buying experience. Jonathan, Marie, Darren and Vicki were all very kind, patient and just awesome! I would not hesitate to shop there again.
Thank you
GOG
team!!

I also want to thank my husband of 20 years for understanding how important this upgrade is to me and for not once telling me that the money could of been better spent elsewhere. I am truly grateful for what we have and do not take this upgrade for granted.
Stone
http://www.goodoldgold.com/diamond/8722/
Video (stone on the right)
http://www.youtube.com/watch?v=ICYW8pedP1s&feature=plcp
Setting
- temporary until the next upgrade - it`s really beautiful and was nicely priced!
http://www.leoingwer.com/index.php?page=shop.product_details&flypage=Copy%20of%20flypage.tpl&product_id=73656&category_id=&id=80179&task=view&tag=1&option=com_virtuemart&Itemid=32
Size 7 ring - I'm a size 6.5 but I like my rings loose.
I tried to take pictures of the stone in various lighting environment to show the stones various personalities. Like many have commented before me, the August Vintage diamonds are real chameleons. The pastels that are displayed are really remarkable and so pretty! It is a bright stone in most lighting situations. Because I'm only just had round brilliants, I was surprised by how different this stone performs. It's not a bad thing, just different.
It is next to impossible to photograph this stone's real life beauty; you have to see it to really appreciate it. Pictures show its beauty but your eyes see it's full potential.
Now, for an honest opinion on the K color. I would say that 80 per cent of the time I don't really notice its tint. Because I've chosen to wear it with my eternity band which are G/H stones, I see an obvious difference in the colors when I look at the rings from the side and profile. When I do notice it the most is when I'm driving (hands are up and I look at the profile) and in bright natural lighting environments. In direct sunlight it's friggen stunning!! It almost glows and has a "bluish" tint to it and this even without having fluorescence. I tried to capture this phenomenon (picture down below). Most of the time the color doesn't bother me and it's really not noticeable but, truth be told, when I do upgrade this stone in a year or two (and I have planned to do this from the get go) I will go up in color along with size (H or I). It's not that its color makes the stone any less beautiful, that's not it at all, it's just that it's not MY dream color. I went for size over color for this round and I don't regret it in the least! Also, I didn't set out to get such a high clarity grade, it just what was available.
Diamonds aren't cheap and finding one (especially an AVC) that fit my (ever changing) budget was a game of compromise and because this is step one of a two step upgrade, I'm 100% ok with this beautiful stone's color.
Now, the pictures! I have quite a few so I will upload some now and if I run out of time (can't ignore the kids all day!
), I'll come back and upload more!
Thanks for looking!!
Cachette