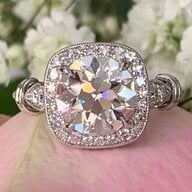 Joined

Jan 11, 2006
Messages

58,537
So are you ready to buy now? Because specific stone recommendations are not going to matter if you aren't since they might be gone in a month or whenever you are ready to buy.
I like asschers very much. I think the downside of them is that they face up small for their weight. I would only get one if you plan to get a halo setting. That is the type setting that complements them the most, in my opinion, and it makes up for the size somewhat. Gypsy has a nice halo on hers, and I have a 1 ct asscher that I bought to fit a specific setting. Mine came from
GOG
, and the video Jon made for me is one of the most helpful things I have ever had in helping me know how to pick great asschers. A couple are good and a couple are great, so it is relatively easy to spot great ones other than they are more scarce.
https://www.youtube.com/watch?v=u7SBfNGxTFE&list=UUEV7slr-i-VduBBnfv9MxhA&index=2
The only cushions I like as well as asschers would be antique cushions like
GOG
's AVCs or
Victor Canera
's antique cushions. Cushions are not square, though, so if she really likes square, stick with an asscher (in a halo, please).