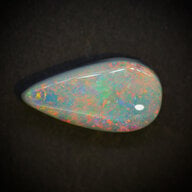 Joined

Dec 6, 2014
Messages

2,077
Can't figure out how to classify the pair, definitely not white but tone is still…nowhere near dark?… Might take it down to the Opal cutters if I buy the semi-black pair to see and compare. Again, being a shallow kid worrying more about label than what my eyes like.
Dark Crystal Opal is what it looks like to my eye, my guess is the Opals will be quite transparent when held up to a light source but there's a dark tint to the crystal that would be in the N5-6 grade, once it hits N4 or darker it becomes Black Crystal Opal. Think of it kind of like the window tinting on your car.
I've had Black Crystal Opal grade at an N1 and look completely opaque in hand, but still let light through from a light source.