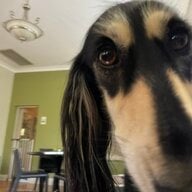 Joined

Jan 22, 2014
Messages

6,425
I'm Australian and I love opals. Strangely though, most Aussies don't like them. It may have a lot to do with the absolutely dreadful opals some stores try to sell.
I have a rather large one that came to me by good fortune. I paid $100 for it (unset) at a garage (yard) sale because the dear lady refused anymore (she originally said $20). I will accordingly never sell it.
It isn't "rock star" quality but it has a lot of charm. It's like there is something "trapped" within the stone. I love it. Opals are all the colours of all the gems rolled into one! I wear it on a gold wire choker (lest it swing and crash into something as pendants of such size and weight are apt to do if hanging on a chain).
Each side is different and excuse my poor qualityiPad photos at night.
Anyone else have a lovely opal they'd care to share?