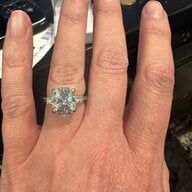 Joined

Nov 12, 2011
Messages

973
I seem to be struggling to find the size emerald I want - not to mention how hard it is to ensure its a great stone.... I keep finding myself learning toward a pear cut, both because it's elegant and it sizes up soooooo well!!!! I can basically "swap" my 1.5ct princess for 1.5ct pear at my diamond merchant, end up with another 3ml plus in length and feel I've upgraded well and truly!

Also.... This frees up my funds to buy my Tiffany Victoria studs!

It kind of makes sense to me to get two things for the same cost that an emerald cut would end up being.

I'm aware of bow tie effect in pears and have jotted down the desirable specs but can any pear experts chime in and let me know what I should really looks for/avoid?

My sisters both wear ovals so I won't consider that.