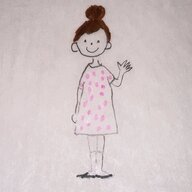 Joined

Feb 2, 2016
Messages

11,312
I was going to hold off on starting a thread but it's been a difficult week (work-related) and I could use a distraction.
At the time I came upon this beauty, it was completely accidental. I wasn't searching or even browsing for a ring but one day there she was. My anniversary is not for many months but I thought it was the perfect ring to commemorate our upcoming 17th wedding anniversary.
The center diamond is 6.7mm OEC and was sold to me as 1.10 carats set in 14k white gold with a small OEC on each side. To make it even better, it is a Traub Orange Blossom ring and has the stamps and hallmarks intact! Needless to say I am pretty over the moon to find such a treasure.
Now here is where I think the center stone could in fact be larger. The Traub rings I have come across have numbers on the inside of the band that seem to match the carat weights of the diamonds. Mine is stamped 15 123, so it's possible that the center is 1.23 carat and each smaller diamond is 15 points.
It was sold to me as G, VS2 but in reality I think the color is much lower, that doesn't bother me at all though because no matter the lighting this diamond is always beautiful. Under the microscope it is also very clean.
I hope you enjoy these pictures, I've been spending a lot of time outside so most of these are in outdoor lighting, more pictures to come.