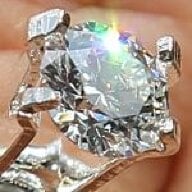 Joined

Apr 25, 2014
Messages

8,221
breanne|1465368915|4041546 said:

Just because someone's been on a forum for a decade, doesn't indicate their knowledge on everything and everyone in the diamond world, and it also doesn't mean I know less because I signed up a day ago.
lol
While this could technically indeed be the case (you could be a world-class diamond cutter with 50 years experience, who is also running a mutli-million-$-turnover international diamond selling company but has only just discovered the internet, for example) it is highly likely that a decade of experience will enable a greater understanding of the nuances that are sometimes involved in assessing diamonds, achieved through the sheer quantity of stones assessed and situations worked through, along with a concomitant 'gut feeling' when things don't seem quite 'right'.
Gypsy is a huge asset to this community and gives her time and experience freely to noobs and experienced hands alike, and I have little doubt that a search through the forum archives will reveal a great many members who have secured amazing stones with her assistance, and very probably no-one who has bought a dud while taking her advice.
Her style is direct, factual and to the point, and she is on the board a lot while also having a personal life - she likely doesn't have the time (or probably inclination

) to tread softly-softly in case others don't like her style, and for me, I like that incisive style because it cuts down on reading time required to get to the key information of interest.
As Kenny says, though, people vary, so it is perfectly understandable if her style is not for you, but please do not take her directness as a personal attack on you; it is just her modus operandi and like all of us here, we want to see you get a great stone for a good price. That is why several people have raised concerns over the claims the jeweller is making about the quality he can get for the price he is quoting - if something seems to cheap to be true, it usually is. As already mentioned, there are very, very few diamond 'bargains' because there are too many people in the chain to allow things to slip through to the customer without someone pricing them accurately somewhere along the way, so the concern expressed by individuals is genuine.
I think we are all interested to see what happens and are keen to see high quality macro pictures with associated
IdealScope
and ASETscope images, and the reference number of the diamond's GIA or AGS report, so we look forward to the next steps in your quest.
Good luck with your search and please do post up when you have more information.