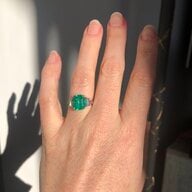 Joined

Sep 25, 2008
Messages

2,933
Hey PSers!
DB here, I'm GliderPoss' other half!
In planning a proposal, I knew that making time to post here for you all to relish in the story (and the BLING) was of the utmost importance so, I've taken over her account and here I am!
A thread here is nothing without photos and, I promise, there's plenty coming.
TLDR:
conspired with a PSer and emerald supplier to get a stone set and shipped to Australia, got all the blessings from family, had a plan in place and popped the question way sooner than expected because the ring was burning a hole in my pocket and i cant keep a secret.
Quick stats:
3.04ct Emerald Cut Muzo Emerald w/ .53ct (total), D, VVS, Trapezoidal sides.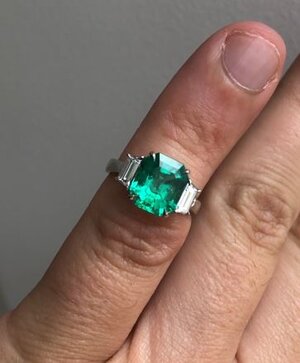 Planning:
After Xmas I'd locked in the approvals from both GliderPoss' mum and Dad. Late last year I made the decision that this girl was not one that i wanted to let get away. She's been here by my side for the last while through some of the toughest times of my life and makes every single day an absolute joy. Putting into words how I feel about her is not an easy task; putting it into the perfect ring though: almost as hard but not impossible.
This rock-hound loves gemstones and by association, I've learnt an absolute truckload about all things that sparkle, cuts, colours, impacts from regions, etc. When it came to this ring I had a fairly good idea about what i wanted and zero idea about how to get it. Enter GliderPoss' bling-bestie
@BlingObsession
- I reached out via Instagram, the conversation, after introductions, went something like:
"I really need some help to make sure this is perfect and I'm hoping you're the person to lend me the hand (please say yes)"
New besties are born:
From the point I'd reached out there was no turning back. I was a bit of a passenger with half a direction. Also, who WOULDNT want to help someone spend money on bling, right?
We got talking about everything the ring should be, pulling inspiration from Instagram and laughing hysterically over some of the other things that were coming up in my feed at the time.
What was it going to be?
A step-cut stone was a must. Spinel, Emerald, Sapphire, or something a bit different. Not diamond though.
Maybe I should use my grandmothers Ruby's in the build?
White or yellow gold? Rose?!
Back and forward we went for a couple of days with some beautiful art-deco styled ideas until Ms BlingObsession landed eyes on a stone through my (2nd) new best-friend George of MuzoEmeralds.
BlingObsession, George, and I tick-tacked for about 3 days before I pulled the trigger.
GliderPoss had joked that "nothing over 3 carats will fit on my finger". Unfortunately for her, the gorgeous stone she received was 3.04. #woeisher
The pieces come together:
Main stone, a gorgeous 3.04ct Muzo Emerald, certified minor oil, and a slight inclusion. I was astonished at how good this thing looked.
George, BlingObsession, and I lined it up with a perfectly sized pair of D, VVS traps and got to setting in a low basket for delivery. The easiest part was getting a timber box made up locally with her name on it.
The receptionists at work were read in on the delivery as there was ZERO chance i was having it delivered to the house whilst not there.
It arrived in one piece and then did a small amount of rounds to see some individuals who'd been read in to this point, including a quick trip to see GliderPoss' folks.
Everything was going perfectly but i was missing something. Its all well and good to have the ring sorted however: the sisters. GliderPoss has 3 of them and they're all very close. I wasn't getting down on one knee without their OK.
2 weeks ago, whilst planning a trip to Brisbane, I dragged the girls into a group chat and dropped the hard words on them. Every single one of them were ecstatic. We're on!
The Proposal
By now I've had the ring in my posession for a few weeks. Its burning a hole in there. I'm no good and holding back surprises but I'm doing my best. On more than 1 occasion GliderPoss nearly found the ring whilst innocently helping move stuff around so we can paint the bedrooms.
We're off to Brisbane mid-June to see some family and friends. It was all perfectly planned out. Neither of us one for grand public gestures, I was planning to pop the question over breakfast whilst at the family home. Nice and quaint.
Key word here -
WAS.
It'd been a rough couple of days in our world on the run down to the weekend. GliderPoss, in doing what she does best, was the perfect rock for me in a time of need. I was in a real funk. Last night, after a long couple of days we got into our daggies, with zero interest in going out, we curled up on the couch under a blanket drinking some ridiculous craft beers as we binged a show on Netflix. I said I needed to get out of the house though.
GliderPoss springs into action and gets ready to follow me out into town to do the 1 thing we weren't planning on doing because I needed to get out.
"Find some Jewellery for me to wear while i finish my makeup if you wouldn't mind?" she says.
It was the perfect opening. I couldn't let it slip.
So - after she comes out of the bathroom looking a million bucks, and just in the middle of our living room, i pull the box out of my pocket. She's thinking its a necklace or something to match the LuAG earrings we had done by Alistair Kelsey.
A lot of words came out of my gob about how I appreciated her as she looked at me almost dumbfounded. I got down to 1 knee, cracked it open, and was instantly met with a yes. Followed by a ton of positive expletives and superlatives for the stone I'd just put on her finger.
The first 24 hours as "Fiancée"
Its been amazing. The laughs as GliderPoss been read in on all the working parts to bring this together, the conspiracy between BlingObsession, George, her family, and I. The lot.
The thing that's made it all worth it is the complete look of astonishment on her face every time she stares at the ring. #nailedit
Lessons Learned
Next time i want to hide something in the house: keep it simple. She's 5'3 and cant reach the top shelf of anything.