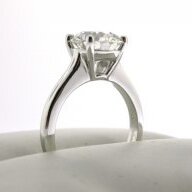 Joined

May 11, 2005
Messages

19
Okay, so I''m looking to spend somewhere between $23 and $27K (max $30 K) on a stone for my soon-to-be fiancee. She wants a round stone, so a round stone she will get. The only thing she really cares about is that it sparkles well and is a decent size, but that doesn''t leave me with a ton to work with I suppose.
From what I''ve read I''m thinking H and VS2 are probably the lower end on color and clarity, but if I get a well cut stone those should be fine. When I look on the price engine, this will put me somewhere in the 2.2 to 2.5 range in terms of carat. There really is almost nothing "In House" that meets these criteria (except for a $31K H&A from
GOG
), so I think I''m going to need a little advice.
Should I be going up one on color or clarity? If H and VS2 are fine, what else should I be looking at if the diamond isn''t in-house? Should I just shoot for AGS 0 to narrow down? If I use VS2, H, 2.3-2.5, AGS0, I get about 10 hits, but it really only represents 3 diamonds (including the
GOG
one). Should I drop closer to the 2.2-2.3 range to get an extremely well cut stone that sparkles?
I''m wondering what you folks think I should do. Part of me thinks I should bite the bullet and go for the 2.38 ct. H VS2 from
GOG
Link
, but that''s a lot of money to be spending on a diamond, and I''m not really sure I can justify that expense.
Any help would be MUCH appreciated.