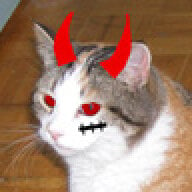 Joined

Nov 19, 2004
Messages

3,450
Ok, so something has been bothering me since Christmas, but I''m not sure if it should...
So as many of you know, I''ve picked a wedding date in 2008, and we put a deposit down for the reception. But having as the relationship was rocky in the near past, no planning has been done apart from that. Since we had only recently gotten back together and were working things out, and school has been crazy. I figured that I would start planning in the summer.
My sister got engaged just before Christmas (she''s 2 years younger then me). And recently decided that she wants 2008 to have her wedding. So she asked me if I would mind having my wedding later, in 2009 (she absolutely doesn''t want us to have our wedding the same year). She offered to refund the deposit I put down, so that it wouldn''t cost me anything.
She gave me some really good reasons for why she would have 2008:
a) her and her fiance want to buy a house together, and they can''t until they are married
b) she wants to have children, and I''m unsure, so her getting married before hand would give her a few years with her man before they start trying for children.
c) she thinks it would be too much for her to have a wedding and buy a house in the same year.
d) She doesn''t feel like I am wedding-crazed anyways, so it wouldn''t make a difference to me if I waited another year.
The background here is that my parents REALLY don''t like this guy. The stories go on forever: he lied about having a job, abusive, and didn''t ask them permission to marry her (a big no-no in our culture) they refused to plan an engagement party, and I threw her one over the Christmas break.
So right now she feels as though no one is supporting this marriage. And I''m not saying I support, I just don''t have the energy for the conflict.
But the thing is.... I really don''t want to have my wedding a year later. I just never say no to my family. They make all sorts of totally unreasonable requests and my answer is always "yes". And I''m not a people-pleaser or anything. Just when it comes to family, I''m excessively easy to walk all over. So I''ve been thinking about it since Christmas, and I really, really want to say no. I just feel like I am being a totally selfish, bad person if I say no. AND my sister is likely to be LIVID because I KNOW she is going to interpret this as "I don''t support your upcoming wedding" AND I''ve never said no to anything she''s ever asked me in my whole life

And if I look at it on paper, I do kind of see how she should get married first. But then another part of me says, "why do I always have to put what I want aside?"
So the question is do I say no? (and risk a huge conflict...it''s going to get really messy, not to mention the tremendous guilt. I feel it already and I haven''t said anything yet )
Or just say yes because her arguments make sense?
I told her in December that I would tell her at the end of the month and I keep going back and forth on what the *right* thing to do is.