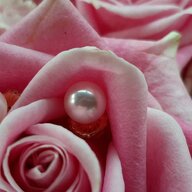 Joined

Feb 21, 2019
Messages

1,813
So I have an update!

While the fancy setting was so beautiful, I just couldn't get comfortable with it. Hubby and I went to the jeweler and had my stone reset into a stock solitaire. I probably would have gone with 6 prong, but they only had a 4 prong that would fit my stone in stock, and I wanted it as soon as possible. They were wonderful, and set and sized the ring while we went to lunch. I am so thankful they could get it finished, as the city closed all nonessential businesses a few days later.

I am beyond thrilled with the new solitaire. If the Tacori was a ball gown, this new setting is more like a string bikini!!! Lots of stone showing, tons of light moving through it. So easy to clean it. The stone was pretty much filthy when it was unset, it was just impossible to clean behind the fancy basket. Now it's a disco ball! And I can't stop staring. Pricescope and the new ring have been such a nice distraction from all the Coronavirus news!

We're putting an aquamarine in the Tacori setting, I'm not sure when I'll have it back, but I'm sure I'll enjoy it much more as a RHR for dressy occasions!

And the stats.....GIA J VS2 4.03ct Ex Ex Ex.
It's just stunning!! Soo sparkly and I love your bands and that is awesome you can keep your diamond super sparkly now! And an aquamarine will be gorgeous in your Tacori.