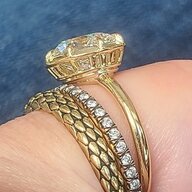 Joined

Apr 20, 2017
Messages

2,592
Since I joined ps, a single ring has stood out as my Holy Grail. I have lusted after
@yssie
's Erika Winters' Margot for what seems like forever. I started exploring the possibility of resetting or upgrading my stone less than a month ago. I got lots of really helpful advice in HO about the pros and cons. I could not get it out of my mind and the itch had to be scratched!
I thought I wanted a 10mm stone in an EW Margot so I began my hunt. After I ordered a 10mm cz and wore it around for a couple of days, I decided it was too big for daily wear. My daughters and husband definitely agreed (teenage son couldn't care less). But I was afraid that changing from the petal prong Dahlia setting to a Margot would make my stone seem smaller since the Dahlia prongs have a tiny halo effect. (Thanks
@Bonfire
for this observation!) What good pser wouldn't be terrified of a reset appearing smaller?!? Going up just a tad from 9.4mm but not to 10mm seemed to be the way to go. As luck would have it, Whiteflash had a 9.7mm J-SI1 ACA in stock so I made an appointment to see it. I tend to have an "unclean" mind so an eyeclean SI1 and a bit of warmth are the perfect specs for me.
I also wanted to see an EW piece before I made the commitment to the Margot which has a substantial price point. I searched around for a band and I found one on ebay!! It was a b&m store in Virginia (White and Ivory) that was selling their floor model EW pieces. Luckily they had my size in a 18k yg Lily band. I purchased it and two days later it was on my finger. Refined perfection was my impression of Erika's work and I knew I would have a Margot.
So at this point I have an appointment with WF to see a 9.7mm stone. I have bought an EW Lily band from White and Ivory, and I know that I want a Margot. Here is where the story gets good!
I sent an email to the lady at White and Ivory to thank her for sending the Lily band so promptly. I attached a picture of my new band with my Dahlia. When she replied, she complimented Dahlia and asked about my stone. I replied with the specs of the stone and that I really wanted the EW Margot with a slightly larger stone and I planned to contact Erika. Just a few minutes after I sent that email, she called me.
She had a platinum Margot made for a 3.3 ct stone sitting in her vault! A lady had changed her mind and it was brand new, set previously but never worn. I asked her to find the exact size of the stone from her records and to send me pics. No way could this be for real! A few minutes later she called back. A platinum Margot, polished finish, pave shoulders, made for a 9.74mm MRB, size 6.5. It was exactly what I wanted down to the ring size!!!!! And of course it was at a great discount (almost 40% off current MSRP!) since it had been sitting in a vault for 2 years. This was beginning to feel like fate.
I still had to see the stone though. And to be honest, I thought I would be disappointed. No way would this really happen this easily! So I went to WF with the attitude that I would not trade for a less beautiful stone, no matter the setting situation. I almost gasped when I saw the new stone. Immediately, it looked brighter and even a bit whiter than my stone which was considered a high J. Michelle and Becca and I were unanimous that it was prettier. Wow, I just couldn't believe it. With a tiny table and high crown, this is a total fireball! Totally eyeclean too!
My new stone
3.443 ct
J
SI1 (eye clean with grade setting twinning wisp)
Depth 61.8
Table 55.4
CA 34.8
PA 40.8
Star 48
LGF 77
https://www.whiteflash.com/loose-diamonds/round-cut-loose-diamond-4033329.htm
So Margot arrived a couple of days later. And WF set it. From dream to finger in less than 3 weeks. It could not have been easier than if it fell out of the sky! Does this even qualify for Holy Grail status!?! And possibly the best part is that DH is completely dumbfounded that I spent less than half of the original budget!!! Hence the Imogen and Helena bands in the pics, hehehe.
Although I have never named a ring before, a single word has stood out throughout the entire process. I have Christened her Serendipity. She will grace my grateful finger from now on!
Thank you to Whiteflash (Michelle,
@Vera W
, Becca, Leon,
@Texas Leaguer
and the entire team), White and Ivory, everyone who advised me in my ridiculously long HO thread, and
@MissGotRocks
for virtually holding my hand throughout the upgrade!