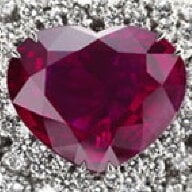 Joined

Apr 17, 2008
Messages

2,536
Gorgeous! It was so wonderful to hear your story. I see you too. I had not really faced autoimmunity before I turned 40. I mean I just said oh fine whatever I suppose I inherited them. I did have a horrible bout when I was 20 but after that passed, until everything started crashing I did not really deal with it. Now I live and love life consciously, knowing and taking care of my body and cherishing joys like what beautiful bling could bring me! Congrats to you and stay well and safe!
Hi Sunstorm,
What a gorgeous yellow pear
Sorry to hear that you also battle with AI.
It definitely does make one grateful for days of good health and feeling "normal". I hope that you continue to feel well!