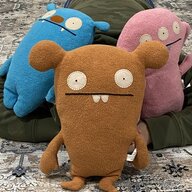 Joined

Oct 24, 2012
Messages

10,027
Stunningly gorgeous! You have beautiful hands! Congratulations!!
Thank you
@Hum-ble
for your kind comment

Busy weekend with my daughter and SIL in town, so that's why I am late replying!

As you know, I love your new diamond and setting!

There's nothing more classic than a Tiffany style diamond ring, and I certainly have enjoyed having a similar setting for a long time! I do prefer a beautiful superideal cut in that setting, though, and the 2.1 ct looks pretty huge on your small finger! That would be a holy grail ring for most people, and I know very few people in my local circle that wear a diamond larger than that. So it is certainly a great size even if you never upgrade or add side stones.
thank you
@diamondseeker2006
I have always valued your sage advice. Thank you for all your input through this process.

Oh my god. What a beautiful collection
Thank you
@Sexypiggy
(love your handle).
Congrats on your spectacular new stone

@LLJsmom

!!!

You got this ring totally right - it's super classic, so elegant and really the crème de la crème! I hope she falls into rotation with MK and that you could appreciate each for their own beauty. I've come to realize...there isn't a right or wrong, just different stepping

stones

in our bling journey!
Thank you
@ac117
appreciate your wise words. It is a journey. I'm impatient and I wish I could teleport to the destination now.