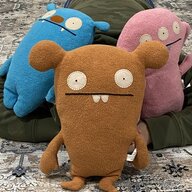 Joined

Oct 24, 2012
Messages

10,371
Oh my goodness! What a delicious scrumptious diamond to feast my eyes on

.

GORGEOUS!!!
Thank you
@Sparkles88

You're so sweet.
That is a beautiful diamond and ring! And at least with

CBI

/

HPD

if a larger D comes along that you can afford you have the option. But in reality that is a very classic ring in a classy size and looks perfect on your hand. Enjoy!
Thank you
@lydial
Yes, I appreciate the upgrade policy greatly. 2 carats is a classic size so I will see how I feel about it over time. I will admit I drooled over your 3 carat
CBI
.

How are you enjoying it?
What a great stable you have. It will be interesting to see which ring you prefer to put on for your daily life. I notice I gravitate to my solitaire. I totally crush on simple, flowing solitaires.

The lines on that ring are sheer perfection!
Thank you
@moneymeister
I've always been terrified of a higher set ring and could not appreciate the beauty of it. And then all of a sudden I kept popping into Tiffany to try on their solitaire. I guess people can change.
HPD
did a lovely job on this setting and I have to thank
@LaylaR
for understanding exactly what is was describing. And thanks to all the lovely PSers that posted lots of photos of this setting.
Beautiful icy white ring!! I think it is wonderful to have a choice of rings each morning, depending on your mood or your outfit. And the setting is a favorite of mine. Enjoy!
Thank you
@OdetteOdile
It's funny to think that I have a choice. I don't think of it that way. I tend to categorize my rings and leave them in their silos. I'll have to remind myself that I can choose a different ring in the morning.
Congratulations on your new stone!
Thank you
@tyty333

Nice to see you here!
LLJsmom I saw that you had been talking about an MRB but had no idea that you had one in the works! It looks beautiful and the setting really lets the diamond speak! I am happy for you and hope that you enjoy it to the fullest!
Thank you
@MissGotRocks
Are you shaking your head? LOL! I'm still trying to get it right. Thank you for being happy for me. Hope you're enjoying your gorgeous three stone. I still love your ring...