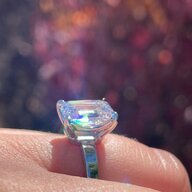 Joined

Apr 9, 2016
Messages

381
So "super" ideals versus what I call non branded ideals...

Sorry if I'm a broken record but I think that we have a different batch of posters nowadays. Between mom and I we have

BGD

signature, bg blue, Quadex, and tightly spec'd non branded stones that i had called into

BGD

and

IDJ

. Personality plays a big part. My mom won't search and wants the best of whats within her budget and exists, so shopping straight from a super ideal's existing inventory works best for her.

For me, I like actively participating in the hunt, and I'd rather save off the top of what I'd pay to a "super ideal" vendor, and Yekutiel knows me and only needs 15 minutes to search the computer and have it run to his store for him to comment on and take images and videos. He keeps my search parameters tight with the angles and percentages blah blah, and i tell him the budget, color and clarity tolerances. I personally think that all my ideal and branded ideals perform just as well.

I may be easy going in real life but I'm a bit OCD and persnickety with bling, to the point where I loved my diamond rep so much when I was being helped at

BGD

that when she left slinging bling, later missed it, and wanted to go back to it part time, I facilitated her going to work at my fave non branded vendor so that I could get the same brain and service.

Let's go back in time to the days where Bliss would marvel at her "mazel" diamonds that she got from

IDJ

and would compare them with

WF

and Tiffany.

So yeah, you can get great diamonds from virtual stock but you need to trust the vendor to understand the parameters we want to work within and how tight they are. They can be show stoppers too.

Peace!
Thank you so much for the input! Really appreciate your perspective and I'm sure this is very helpful to others debating super ideal v. non-branded ideal question as well. (And side note that I always get a kick out of your posts) I've asked Jonna at
IDJ
if they can find what I'm looking for within budget, so I might ping you again for your thoughts on what she is able to find, if you don't mind!