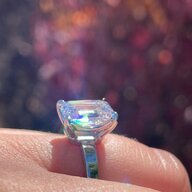 Joined

Apr 9, 2016
Messages

382
I've been really struggling with my diamond studs project and would very much appreciate any insight and advice from the PS crew. My budget is $14-15k for diamonds for studs (not worried about the setting), which definitely isn't enough to get my desired stats in a super ideal diamond.

The desired stats are F color and 7mm spread (obviously happy for anything better than that, haha). I'm happy with eye clean SI clarity and fluorescence to keep the price down.

I know the super ideal vendors have amazing upgrade policies, but my husband wants this to be a one and done purchase, so it seems unlikely that I would be able to take advantage of the upgrade. I found a pair of super ideal studs that are within budget, but they are G color and 6.7mm spread. I saw a pair of super ideal H color, 6.6mm stones in person and they were beautiful, but seemed small on me (big earlobes) and not as white as I would prefer.

I've tried searching for those close-to-super-ideal stones to see if I can get the stats I'm looking for within my budget, and I know what to look for generally (HCA under 2 and the various numbers within the accepted ranges), but I'm still feeling pretty overwhelmed and not all that confident in my ability to pick great looking stones.

So, if anyone has any non-super ideal stones to recommend, I would really appreciate it!! And second, I would also appreciate any opinions on the super-ideal v. non-super-ideal studs question. I'm trying to anticipate if the G color, 6.7mm pair will be close enough to what I want, with the tradeoff in stats compensated for by the fact that they are super ideals. My husband really doesn't feel comfortable with me ordering "test" stones to compare and covid is making in-store comparisons a little bit more difficult as well.

Thank you in advance!!