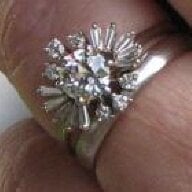 Joined

Jan 7, 2007
Messages

2,514
Date:

5/14/2010 7:09:33 PM

Author:

heyjudes

Thanks so much for the suggestions Helio and AJ. As for the baguettes - my BF is really not a fan of them, he mockingly calls them ''French bread'', so at best we will be able to use the little OECs for the sides.

Don''t take this the wrong way Helio - but I''m not sure how I feel about the triple prongs. Right now, the 6 and 8 prongs are more appealing to me.

If Singlestone doesn''t have an exact setting - which vendors could be trusted with making a custom setting? I''m in New York

.
And it''s certainly more secure for an OEC. Go for it!