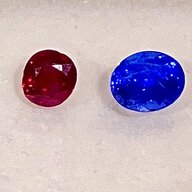 Joined

Apr 4, 2021
Messages

252
So I always had in my bucket list to buy one (or two if possible) "Imperial Jade" cabochons on settings to pass on as heirloom. I previously bought a jade cabochon from a vendor in Melbourne, and while it had lovely deep green tone and decent translucency, it wasn't up to the level of "Imperial Jade" as I understood it. With the Covid lockdown it's impossible to travel for gem shopping and decent jade cabochons for sale are far and between online.
There is a small selection of jade cabochons at AJSGems, and a couple had videos that made it look as if it may qualify as "imperial jade" by majority of the market. I have been wondering about why they haven't been sold all this time, as the certificates go back to 2007, but thought I will discuss the stones with the vendor.
Now they have a real expensive U$135K stone but others of decent quality ranging 5-7.5K, with up to 20% discount. Unfortunately out of four stones in that range only two have decent videos. The vendor did take a photograph with all four stone, after talking back and forth, I settled on the largest and the most expensive of the lot. As I can't travel to look at the stone in person and I wanted some measure of assurance I'm not buying a total did, I asked the vendor to send the stone for re-certification at AIGS Thailand (as they seem to be one of few that does qualitative certification on jade), and it is happening as we speak. If I'm am to buy the stone after certification, it will come just under $6K after discounts.
So while I am waiting I would like to share the videos and photographs of the stones I was considering and my selection to see if there are reasons for me to back out, paying too much, if there may be good reasons for these stones not selling for almost 15 years. I am hoping to make a ring out of it to pass on as family heirloom and want to ensure it's "imperial jade" grade.
The first video of a stone held by forceps is the one I ended up choosing, and awaiting AIGS certification. 2.82carat, supposedly of great fine chrome green tone, and excellent translucency
The second video is of the stone that I had considered up to the last minute, it has enchanting colour but the vendor seems to think the colour of the first one is of higher quality or more valuable...
The photo is of all stones I considered for this purchase. The one I ended up choosing is the one on top left, the stone from the second video is on bottom left, whereas the top right is actually more expensive than bottom left but did not have videos and the vendor thought the colour possibly too deep. The bottom right had weird proportions and did not look as good as others.
Well, that's what I have thus far, let me know what you think! All the jade connoisseurs and experts of the World and critique away!
Last edited: