By
Erika Winters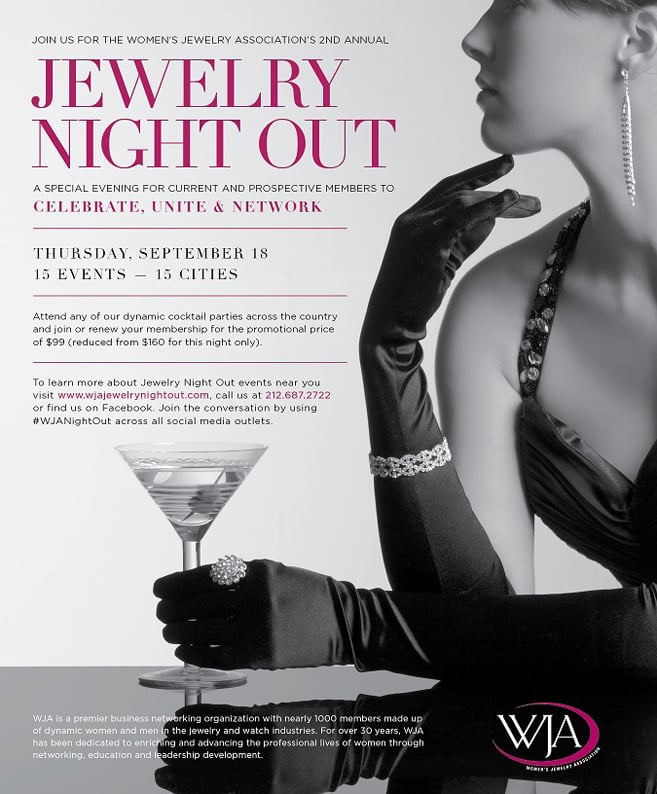 "Jewelry Night Out was designed as a special evening for current and prospective members to join together in doing what WJA does best — celebrate, unite, and network," said Andrea Hansen, WJA president.
The Women's Jewelry Association is presenting its second annual Jewelry Night Out on September 18, 2014. The annual event unites WJA chapters worldwide with a night of cocktails, education, and fun with fellow jewelry professionals. There is also a huge incentive to attend WJA's Jewelry Night Out, as members can renew or join WJA for a reduced rate of $99–that night only! For registration information and to find your closest chapter, please visit WJA's Jewelry Night Out website.
Why join WJA? I can speak from personal experience on the professional value of WJA membership. I am on the board of my local chapter in Seattle, which hosts approximately one event each month. We work to expand our chapter's education and to inspire and empower other women who work in the jewelry industry. When we get together, the energy is electric! We not only have a blast, as hanging out with other jewelry-industry friends is a rip-roaring good time–but we also forge new connections through empowerment. For example, our chapter has several independent jewelry entrepreneurs starting new businesses. So we share our insights at events and workshops to help each other grow and evolve. We also have several members from large Seattle-based jewelry companies, so we think of our chapter as an amazing industry collective, where all experience levels are welcome.
"Membership brings you closer to your peers and gives you an instant network of professionals — internationally — to help you grow and thrive in our industry," said Fran Pennella and Cindy Edelstein, co-vice presidents of membership development for WJA. The two added that membership in WJA also includes benefits such as discounts to national and regional events, scholarships, grants, a design contest, industry recognition and sponsorship opportunities, and a membership directory available only to members.
Jewelry Night Out's lead international sponsor is Signet Jewelers, with sponsorship in the U.S. by its brands Kay Jewelers and Jared The Galleria of Jewelry. "Signet is delighted to sponsor WJA's Jewelry Night Out," says Tryna Kochanek, WJA's immediate past president and senior vice president of field operations at Signet's U.S. division. "We encourage members of WJA and 'soon to be' members from all industry categories to join us in attending this now-international celebration."
If you have not yet joined the Women's Jewelry Association, attend your local Jewelry Night Out to learn more. And remember, both women and men are welcome at the WJA.
To find the event closest to you and register, visit WJA Jewelry Night Out.
Follow #WJANightOut on social media!
Related:
Women's Jewelry Association Announces 2014 Scholarship Winnerst

Adornmentality.com Dishes Up the People Behind Jewelry Market Week