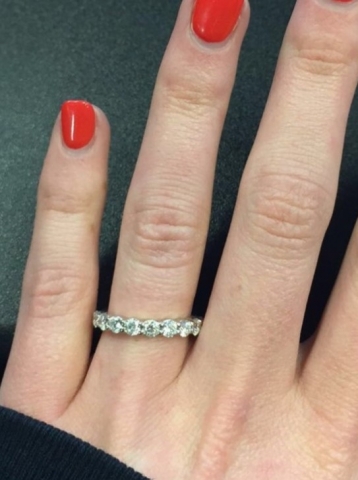 Wedding Bands for Brides to Be (Opening Ring Photo posted by lalala)

on thePriceScope Show Me The Bling Forum
I'm in the throes of wedding planning (102 days to go and counting) and am being consumed by all things bridal. I've defined my wedding style and ordered the invitations, but I'm still struggling with selecting a wedding band. My dilemma is that I am a mixture; I'm overwhelmingly a classic bride with a touch of modern.
Thus, I find myself attracted to a simple band as well as eternity and half eternity bands and I also love a bit of a romantic look. Unfortunately, there are quite a lot of bands which I love that fall into one of three categories.
Romantic Brides
Simon G. delicate diamond wedding ring set in 18K rose gold

at Whiteflash
Who doesn't love a little romance? The very nature of a wedding is to celebrate love and romance, right? Well, this rosy little wedding band is sure to bring the love on your big day and all the anniversaries to follow.
Modern Brides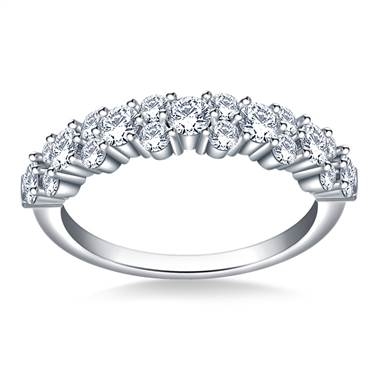 Classic half eternity wedding band set in 14K white gold

at B2C Jewels
Modern brides tend to have it all and know exactly what they want. They're determined to make their own rules for their wedding day and will spare no detail to make their dreams come true. Eternity bands and half eternity bands have been propelled into the spotlight thanks to today's brides and have found a strong following among brides who want a fresh and modern update to the traditional wedding band.
Traditional and Classic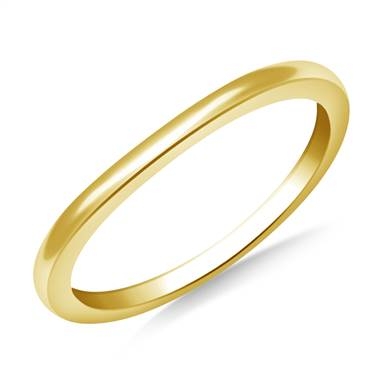 Curved wedding band set in 14K yellow gold

at B2C Jewels
Something old, something new, something borrowed and something blue, this is a bridal tradition that will last for generations to come. A traditional wedding band is the wedding band of choice for the most traditional of all institutions, the British royal family. Royal brides have had their wedding bands crafted out of Welsh gold for generations. Now, any bride can be royal when she walks down the aisle.
Unfortunately, I'm still conflicted as to the type of wedding band style I will ultimately choose. There are so many beautiful options out there, I can't figure out how I will just choose one. Thankfully, I have narrowed down my selection to one of the above styles. Wish me luck and I'll let you know what I've selected!

By PS Staff