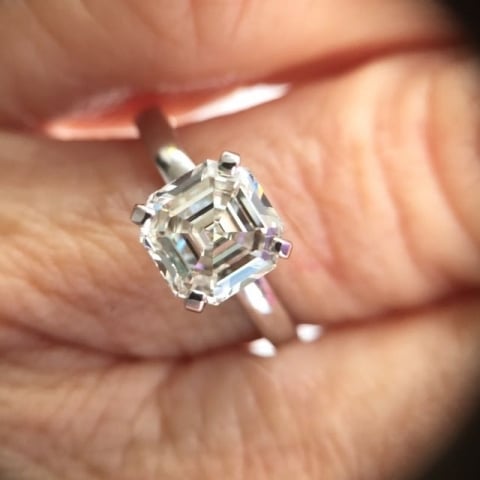 Celebrities Love Asscher Cut Diamonds
We were doing research for this blog post when we noticed something interesting. Today's celebrities are becoming fast fans of fancy cut engagement rings. One of which is the Asscher cut.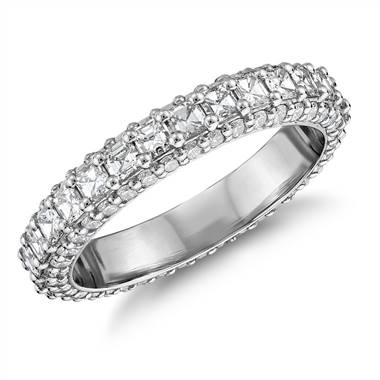 Bella Vaughan grandeur Asscher-cut diamond ring set in platinum at Blue Nile

at Blue Nile
One trait which may be ascribed to the reason that celebrities find Asscher cut engagement rings so fetching may be in part that the ring is a hybrid between two fancy cut shapes. Yup, the Asscher cut is a mix of an emerald cut and a princess cut ring. So in essence, one could say that they received three engagement rings instead of one!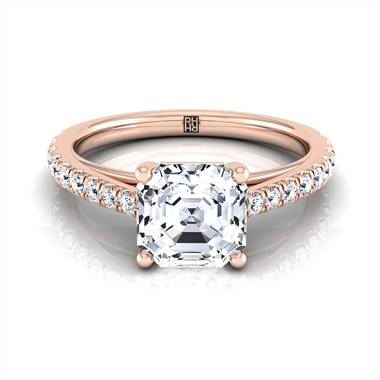 Classic four prong Asscher cut diamond engagement ring set in 14K rose gold

at RockHer
This could be why famous jewelry lover, Elizabeth Taylor, counted her 33 carat Asscher cut ring from Richard Burton as one of her favorite rings. It was the famous Krupp diamond and set a new record when it was sold upon her death.
Another actress who can flaunt an Asscher cut on her left ring finger is Jessica Alba. The actress and founder of The Honest Company has been married to Cash Warren and have three children together. He proposed to her with a five carat Asscher cut diamond in a halo setting.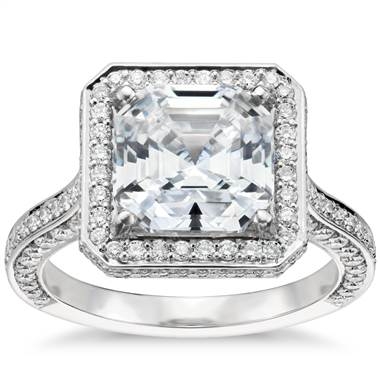 Asscher cut royal halo diamond engagement ring set in platinum

at Blue Nile
Celebrities aren't the only high profile people who love Asscher cut engagement rings however. One may also find Asscher fans in royal circles. Pippa Middleton's husband proposed to her in 2016 with an Asscher cut diamond surrounded by an art-deco style halo ring. It is a definite statement ring which is why she paired it with a simple gold wedding band so the two pieces of jewelry would not compete with each other. Sounds like a match made in heaven to us!
Asscher cut diamonds have a solid foothold among celebrities and aristocrats alike. They are flocking to fancy cut engagement rings and the Asscher cut is one of their favorite looks right at the moment. It counts some of the most influential celebrities as fans, so we can only expect to see this cut increase in popularity.

By PS Staff