Andelain originally posted this incredible pendant on the Show Me the Bling forum at PriceScope. This custom 3 stone pendant is magnificent. Jewelry means so much to people, it isn't only beautiful but a link to other people in your life. Even though, as a deployed soldier, Andelain wasn't allowed to wear this in uniform; she had it with her to look at and enjoy.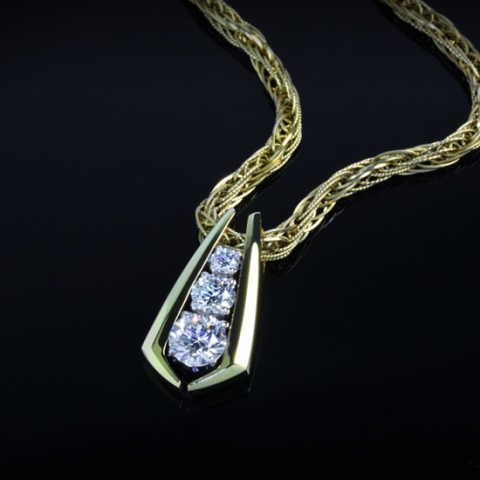 This pendant was a custom creation, based on Andelain's drawings. Whiteflash was able to handle the entire process via email, she never even so much as spoke to them on the phone. That is some impeccable customer service and attention to detail! This is a success story for the books, because that finished piece is phenomenal! If you want to see the original drawings, you can check them out on another PS post!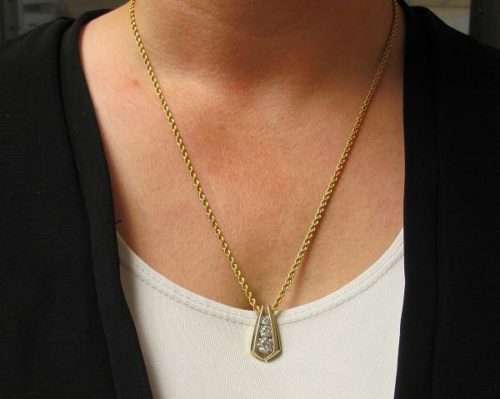 The Stats:
The top stone is a 3.3 mm ACA melee.
The middle stone will be a 5mm D colored WF ACA
The bottom stone will be an 1.10 F (6.7 mm ) colored Eightstar
This is gorgeous and we hope that you have continued to find joy in it throughout the years! Thank you for sharing and thank you for your service!
Come see the original post with more pics and join me in congratulating Andelain!
On Throwback Thursdays, we celebrate beautiful pieces that have been shared over the years!
Thank you so much for sharing your jewelry experiences with us. Keep revisiting PriceScope's past with us each Thursday!
#TBT
Come show off YOUR fantastic bling with fellow jewelry lovers and trade professionals
Join in the discussion about your most wonderful jewelry pieces on PriceScope