Antiquecushionseeker originally posted this stunning OMB engagement ring on the Show Me the Bling Forum at PriceScope! What a delicious piece of eye candy this diamond engagement ring is! While and Old Mine Brilliant Cut is a Cushion, not all Cushion cuts are Old Mine Brilliants! These Antique Cushions are highly sought after, and it is no surprise because they are fabulous!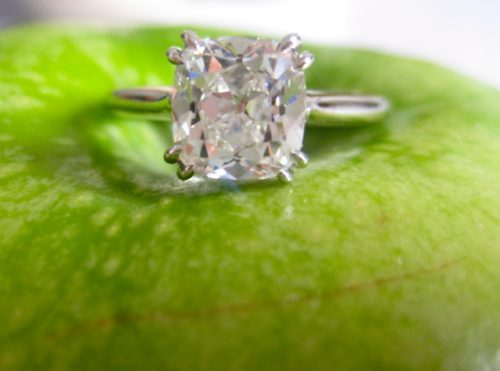 Antiquecushionseeker leaned on the knowledge she learned at PriceScope to facilitate the creation of her dream ring. Turning to Mark T from Engagement Rings Direct (Now Brilliantly Engaged) was the first step towards success! Mark Turnowski is a favorite among PriceScopers, for good reason, the customer service that they experienced was exemplary! Once he sourced this diamond, Mark and Antiquecushionseeker's fiancé were off to the races, designing creating the ring itself!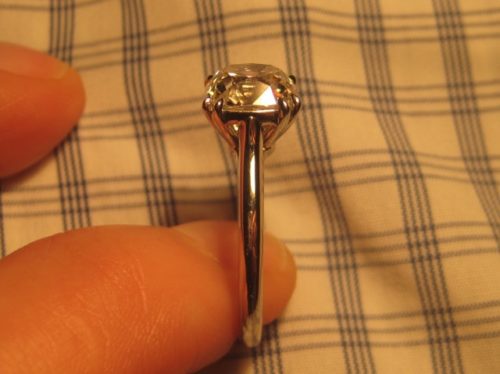 Antiquecushionseeker got her ring, got her proposal, and hopefully got her happily ever after! We got this fantastic post and lots of pics to share in her joy with her! I hope that this ring has been worn in health, wealth, and happiness throughout the intervening years!
The Stats:
Shape: Old Mine Brilliant
Carat: 2.13
Measurement: 7.81×7.27×4.97
Color: H (very close to G)
Clarity: SI1
Polish: Excellent
Symmetry: Very Good
Culet: slightly large
Check out the original post, see more pictures, and join me in congratulating Antiquecushionseeker!
On Throwback Thursdays, we celebrate beautiful pieces that have been shared over the years!
Thank you so much for sharing your jewelry experiences with us. Keep revisiting PriceScope's past with us each Thursday!
#TBT
Come show off YOUR fantastic bling with fellow jewelry lovers and trade professionals
Learn more about Antique Rings on PriceScope