Diamondsaregirls originally posted this unbelievable sapphire ring on the Show Me the Bling Forum at PriceScope. I can't get over it, this sapphire is almost too good to be true, it is absolutely divine. The fact that is was an inheritance, and served as "Something old AND a Something Blue," just make it all the sweeter.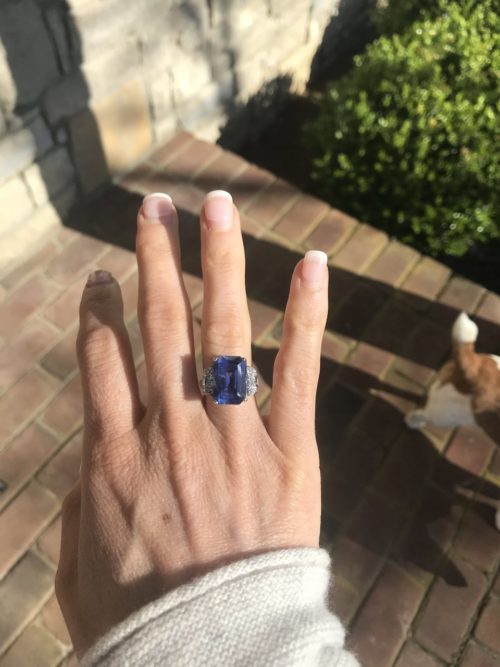 Diamondsaregirls' grandmother once owned this phenomenal beauty, it was given to our PS friend on the occasion of her wedding to serve as two of the "Somethings of Sentiment." (I made up that term, but I think it works!) Diamondsaregirls longs to know more about the origin of the ring, and how her grandmother came to own it. What journeys has this ring had on it's way to her? I want to know too, I bet I am not the only one that has fallen in love with this ring at first sight!
The Stats:
It was at one time over 10 ct, but it was chipped and recut, it is now 9.56 ct
Unheated Burmese Sapphire
Diamondsaregirls is looking into getting more reports done on this ring, and we are excited to know more. There are only 2 pics so far on this post, so join me in asking Diamondsaregirls for more pics of this stunning sapphire, maybe she will indulge us! 😉
The Jewel of the Week is our chance to feature and appreciate a recently posted piece from the Show Me the Bling Community!
Thank you so much for sharing your jewelry experiences with us. We look forward to seeing more!
#JOTW
Come show off YOUR fantastic bling with fellow jewelry lovers and trade professionals
Learn about why Colored Gems are best handled by Specialists