By
Erika Winters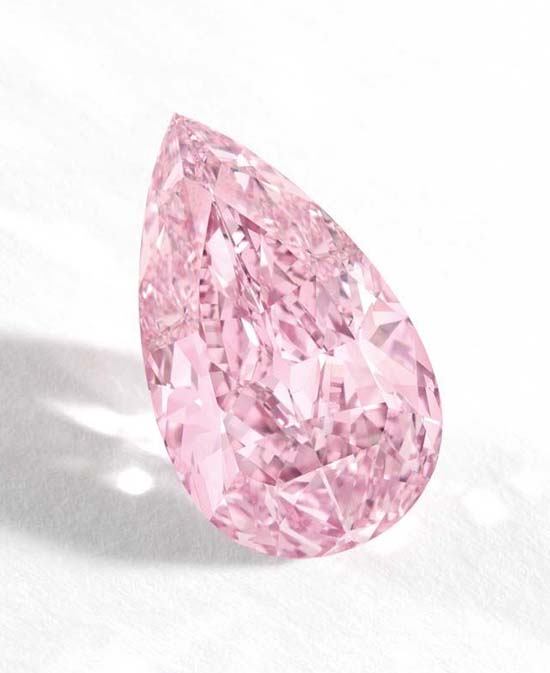 An 8.41-carat fancy vivid purple-pink diamond is expected to fetch between $12.8 and $15.4 million at Sotheby's Hong Kong. Image: Sotheby's
Sotheby's Hong Kong will be auctioning an 8.41-carat internally-flawless, fancy vivid purple-pink diamond at its Magnificent Jewels and Jadeite sale on October 7. The ultra-rare diamond is expected to fetch between $12.8 and $15.4 million at Sotheby's autumn sale, which will be held at the Hong Kong Convention and Exhibition Center.
The pear-shaped diamond was cut from a 19.54-carat rough diamond (shown below) mined by De Beers. The final cutting was completed in New York.
The combination of internally-flawless clarity and the "fancy vivid" color grade, assessed by the Gemological Institute of America, mark this diamond as one of the world's rarest gems.
"Following the Graff Pink, current world record holder for a diamond and any jewel at auction, we are privileged to present a superb 8.41-Carat Internally Flawless Fancy Vivid Purple-Pink Diamond this October in Hong Kong – one of the world's three major jewellery auction centres after Geneva and New York. This colour is one of the most beautiful and concentrated shades of pink in diamonds that I have seen, and combined with the exceptional clarity, it is not surprising that it would command the highest per-carat pre-sale estimate for any pink diamond to date," said Sotheby's Deputy Chairman for Asia Quek Chin Yeow.
The purple-pink diamond will be previewed in Singapore, Taipei, New York, London, and Geneva before returning to Hong Kong for the auction. And a public exhibition will be held from October 3 to 6 prior to the sale.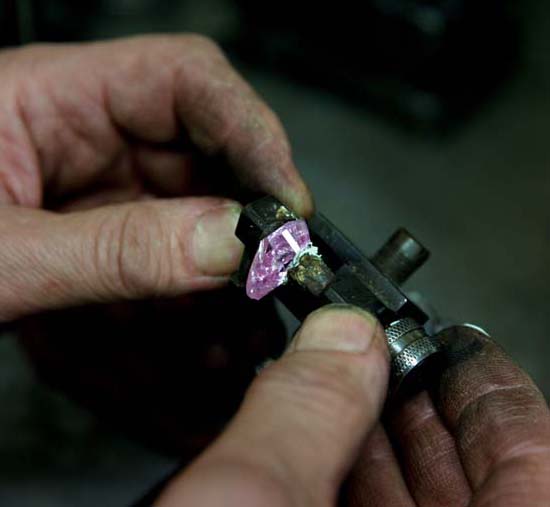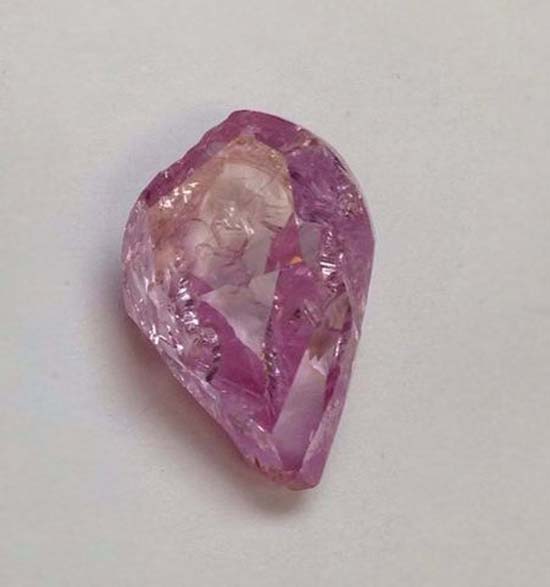 This 19.54-carat rough diamond mined by De Beers yielded the 8.41-carat fancy vivid, internally-flawless, pear-shaped diamond that will be auctioned on October 7 in Hong Kong. Image: Sotheby's
Related:
Rio Tinto's Rare Red and Pink Diamonds Take Flight

Rahaminov Unveils Rare Yellow and Pink Diamonds at JCK Luxury 2014
Sotheby's Geneva Jewelry Auction Achieves $141.5 Million, Sets New World Record