By
Erika Winters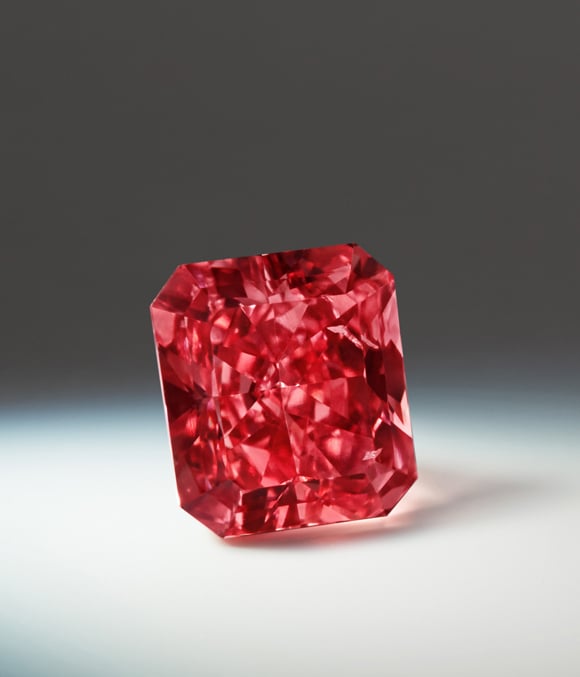 Argyle Pink Diamonds Tender 2014: Argyle Cardinal, a 1.21-carat fancy red diamond • Image courtesy of Rio Tinto Diamonds
Rio Tinto has unveiled rare red and pink diamonds from its 2014 Argyle Pink Diamonds Tender in an exclusive preview in Sydney, Australia. The showcase marks the 30th anniversary of the tender, which comprises a total of 55 diamonds, including 51 pink and purplish-red diamonds and four fancy red diamonds.
This year, the collection's theme celebrates stunning birds from around the world: the "hero" diamond (shown above) is the 1.21-carat fancy red diamond named the "Argyle Cardinal" after the petite red bird found in North America. And the "Argyle Toki," a 1.59-carat fancy-intense purplish-pink diamond, (shown below) is named after a Japanese bird with a delicate pink hue on the underside of its wings.
The Argyle Pink Diamonds Tender is an annual invitation-only sale of some of the world's rarest fancy-color diamonds found at Rio Tinto's Argyle mine in western Australia. The Argyle diamond mine produces more than 90 percent of the world's pink diamonds.
"Decades ago, no one would have believed that Australia held the secret of diamonds, let alone virtually the world's entire source of rare pink and red diamonds. The pinnacle of the production from Rio Tinto's Argyle mine, the annual pink tender diamonds are now celebrated internationally as amongst the rarest and most valuable diamonds in the world. We have seen and continue to see sustained demand and price growth for Argyle pink diamonds," said Rio Tinto Diamonds managing director Jean-Marc Lieberherr.
Argyle Pink Diamonds Tender viewings will be held in Sydney, New York, Hong Kong, and Perth. Bids close on October 8, 2014.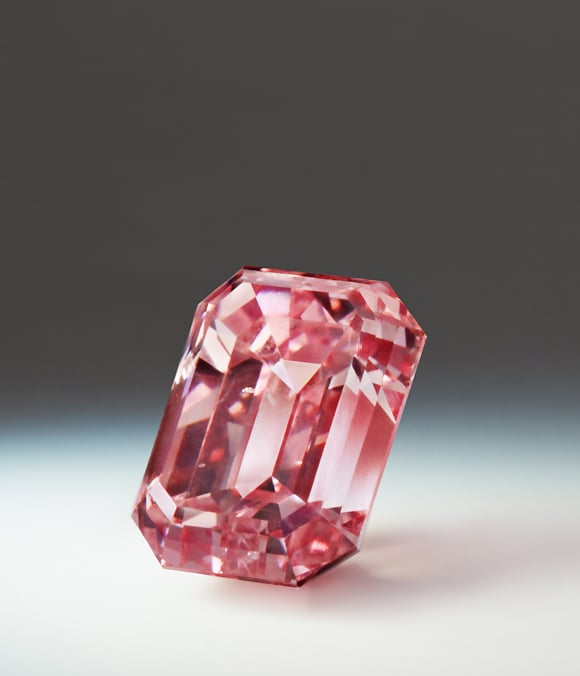 Argyle Pink Diamonds Tender 2014: Argyle Toki, a 1.59-carat fancy-intense purplish-pink diamond • Image courtesy of Rio Tinto Diamonds
Related:
Rare Red Diamonds to Heat Up Rio Tinto's 2013 Argyle Tender

Rio Tinto's Highlights from "Out of the Vault: Pink Diamonds and Royalty"