By
Erika Winters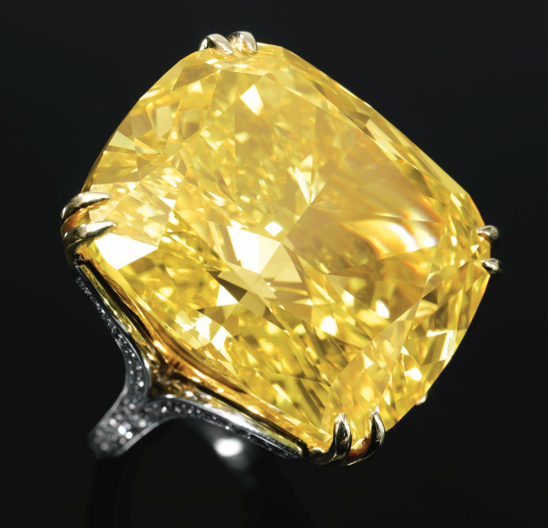 The 100.09-carat "Graff Vivid Yellow" diamond fetched $16.3 million at Sotheby's Geneva. Image: Sotheby's
Sotheby's Geneva set a new world record for a jewelry auction at its Magnificent Jewels & Noble Jewels sale on May 13–with sales totaling a staggering $141.5 million. The auction–which surpassed Christie's previous world record sale of Elizabeth Taylor's jewelry collection in 2011–established a total of seven new world auction records.
Leading the sale: The incredible 100.09-carat "Graff Vivid Yellow" diamond sold for $16.3 million, setting a new world record for a yellow diamond. The fancy vivid yellow cushion-cut diamond surpassed the previous world record of $12.4 million established by the sale of the "Sun Drop" diamond–later renamed the "Lady Dalal"–at Sotheby's Geneva in November 2011. The "Graff Vivid Yellow" also set a new world record for any Graff jewel sold at auction.
"100 carats is a magical number when it comes to diamonds. With its exceptional size and a superb daffodil colour, the Graff Vivid Yellow is a truly extraordinary diamond with immense presence," said David Bennett, chairman of Sotheby's jewelry department for Europe and the Middle East.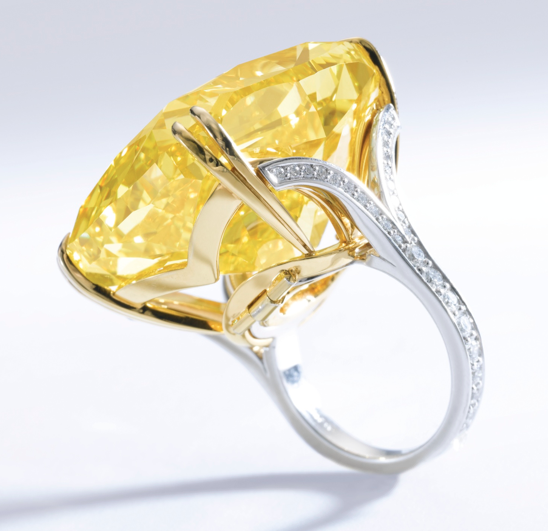 Sotheby's sale of "Graff Vivid Yellow" broke two world auction records. Image: Sotheby's
Seven new world records established at Sotheby's Geneva:
World auction record price per carat for a round colorless diamond at $246,710
• Important diamond ring weighing 25.32 carats, D Color, Internally Flawless, Type IIa (lot 487) –
Sold for CHF 5,541,000 ($6,246,702) – $246,710 per carat
• Previous record set by a 28.86 carat brilliant-cut diamond, D color, Flawless –
Sold for $6,907,692 ($239,352 per carat) at Sotheby's Hong Kong in April 2014
World auction record for a yellow diamond
• The "Graff Vivid Yellow," a cushion-shaped Fancy Vivid Yellow diamond, weighing 100.09 carats, VS2 Clarity (lot 507) –
Sold for CHF 14,501,000 ($16,347,847)
• Previous record set by the Sun-Drop diamond (renamed "The Lady Dalal") – a fancy vivid yellow pear-shaped diamond weighing 110.03 carats –
Sold for CHF 11,282,500 ($12,361,558) – $112,347 per carat at Sotheby's Geneva in November 2011
World auction record for a jewel by Graff
• The "Graff Vivid Yellow," a cushion-shaped Fancy Vivid Yellow diamond, weighing 100.09 carats, VS2 Clarity (lot 507) – Sold for CHF 14,501,000 ($16,347,847)
• Previous record set by a 5.00 carat cushion-shaped Fancy Vivid Pink ring by Graff –
Sold for HK$83,540,000 ($10,776,660) – $2,155,332 per carat at Christie's Hong Kong in December 2009
World auction record price per carat for a Fancy Pink diamond at $601,228
• Very Fine Fancy Pink diamond ring, weighing 12.07 carats, Internally Flawless (lot 522) –
Sold for CHF 6,437,000 ($7,256,816) – $601,228 per carat to David Morrison, London Jeweller
• Previous record set by a 8.59 carat a Fancy Pink diamond ring by JAR –
Sold for HK$ 27,540,000 ($3,571,938) – $415,825 per carat at Christie's Hong Kong in November 2012
World auction record price per carat for a Fancy Light Pink diamond at $393.071
• Fine Fancy Light Pink diamond ring, weighing 10.11 carats, VS2 Clarity (lot 525) –
Sold for Sold for CHF 3,525,000 ($3,973,944) – $393.071 per carat
• Previous record set by an unmounted 5.08 carat brilliant-cut Fancy Light Pink diamond
Sold for $280,807 per carat at Sotheby's New York in November 2012
World record for a various owner jewelry sale at $143,135,770
• Previous record at $111,836,526 set by Sotheby's Geneva in May 2012
World record for a jewelry sale at $143,135,770
• Previous record: $137,235,675 set by the Elizabeth Taylor sale at Christie's in December 2011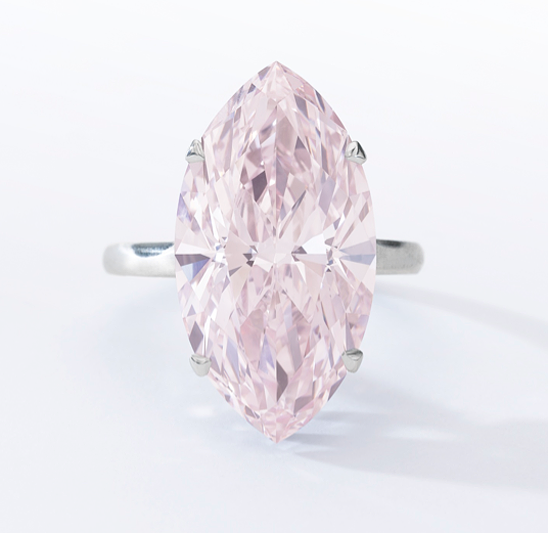 This 12.07-carat fancy pink diamond ring sold for $7.3 million ($601,228 per carat) setting a new world record price-per-carat for a fancy pink diamond sold at auction. Image: Sotheby's
Related:
100-Carat "Graff Vivid Yellow" Diamond to be Auctioned at Sotheby's Geneva

1Video: Largest Flawless Vivid Blue Diamond in the World to Be Auctioned at Christie's
Elizabeth Taylor's Jewelry Auction Achieves a Record $115.9 Million