By
Erika Winters
A 13.22-carat flawless fancy vivid blue diamond will be auctioned at Christie's Magnificent Jewels Sale in Geneva on May 14. The rare gem–known as the largest flawless fancy vivid blue diamond in the world–was displayed at Christie's New York on April 11. And in the video below, Christie's head of jewelry Rahul Kadakia explains its rarity and why blue diamonds command some of the highest prices at auction worldwide. The diamond, named "The Blue," is expected to sell for $21 to $25 million at the upcoming Geneva auction.
"To have a [blue] stone that weighs 13 carats is near impossible…vivid blue being the strongest saturation in a blue diamond…[It's a]…deeply saturated rich blue color, a pear shaped stone, and flawless. So the stone is internally and externally bereft of any imperfections," said Kadakia.
In the video, Kadakia also explains why large, rare colored diamonds are so valuable, citing "The Orange," a 14.82-carat fancy vivid orange diamond that fetched $35.5 million at Christie's last November. "The Orange" is also a pear-shaped stone roughly the same size as "The Blue." And in terms of rarity, both gems are the largest in their respective classes to ever be offered at auction.
Two other spectacular diamonds to be offered at Christie's Geneva sale are also featured in the video, including the 5.50-carat fancy vivid blue-green "Ocean Dream" diamond and the historical 26.14-carat "Rajah" diamond.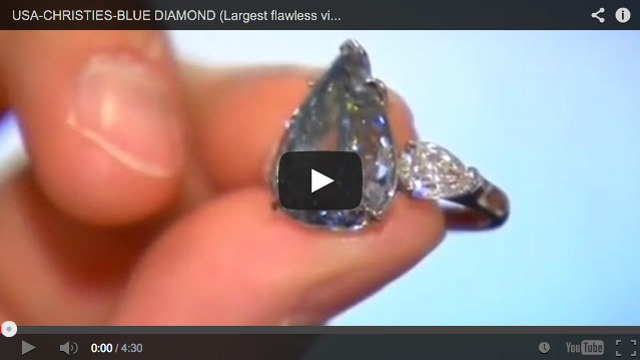 Video requires Flash. Watch at YouTube
Related:
14.82-Carat Orange Diamond Sells for Record $35.5 Million at Christie's

100-Carat "Graff Vivid Yellow" Diamond to be Auctioned at Sotheby's Geneva
Sotheby's to Auction Rare 7.59-Carat Fancy Vivid Blue Diamond