By
Erika Winters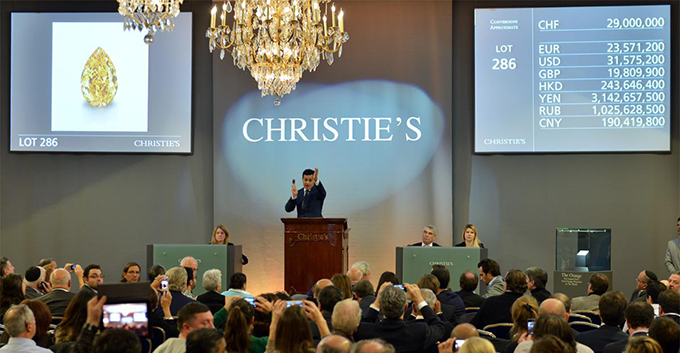 Christie's Image: Rahul Kadakia, head of Christie's jewelry department for Switzerland and Americas, selling The Orange at Christie's Geneva
The largest fancy vivid orange diamond ever offered at auction fetched $35.5 million ($2.4 million per carat) at Christie's Geneva on November 12, 2013. The 14.82-carat diamond, dubbed The Orange, set a new world record price per carat for any diamond sold at auction and a world record price for an orange diamond.
Pure orange diamonds are among the world's rarest, and those that weigh over 5 carats are seldom seen at auction. The sheer size and vivid color of The Orange make it one of the most notable diamonds to date.
"Time and again, a stone will appear on the market that is truly a miracle of nature. The 14.82ct orange diamond is one such stone, a rare gem, which will perhaps only be seen once in a lifetime," said Francois Curiel, international head of Christie's jewelry department. "In the sale on Tuesday, it soared far above all previous records for any orange diamond ever sold at auction, placing The Orange amongst the greatest pinks and blues, which are traditionally the most appreciated coloured diamonds."
The Orange highlighted Christie's Geneva Magnificent Jewels auction, which garnered a total $125.3 million, selling 89% by lot and 96% by value–with 22 lots each selling for over $1 million. Top lots included a seven-strand natural pearl necklace, which fetched $9 million. And an Art Deco emerald and diamond necklace by Van Cleef & Arpels–from the collection of Princess Faiza of Egypt, daughter of King Fouad I of Egypt (1868-1936)–sold for $4.2 million.
Visit Christie's to view results from the Magnificent Jewels sale.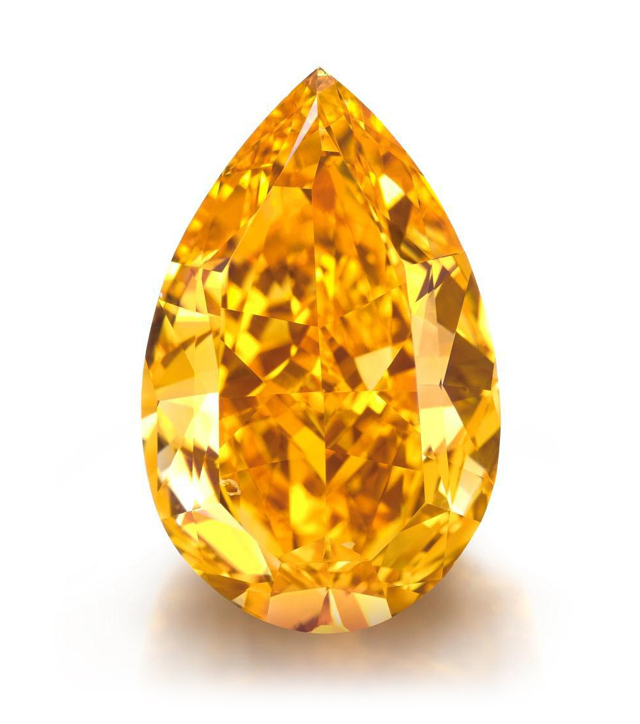 The Orange, a 14.82-carat fancy vivid orange diamond, sold for $35.5 million at Christie's Geneva on November 12, 2013. Image: Christie's
Related topics:
Christie's to Auction Ultra-Rare 14-Carat Orange Diamond

Mouawad's L'Incomparable diamond necklace for sale in Singapore
Trio of Pink, Blue, and Yellow Diamonds to Highlight Christie's Auction