PS Welcome - YouTube
All about PriceScope
Thu, 10 Oct 2013
Christie's to Auction Ultra-Rare 14-Carat Orange Diamond
H1:
Christie's to Auction Ultra-Rare 14-Carat Orange Diamond
By
Erika Winters
An ultra-rare 14.82-carat fancy vivid orange diamond will lead Christie's Magnificent Jewels auction in Geneva on November 12, 2013. Dubbed The Orange, the diamond–which is expected to fetch between $17 million and $20 million–is the largest fancy vivid orange diamond in the world, according to the auction house.
Pure orange diamonds are among the rarest of all natural fancy-colored diamonds. And natural orange diamonds that are graded "fancy vivid" by gemological laboratories are among the most valuable diamonds in the world.
From the Gemological Institute of America (GIA):
In the Laboratory's experience, strongly coloured diamonds in the orange hue range rarely exceed three or four carats in size when polished. (This diamond) is almost four times larger than that size range. In GIA's coloured diamond grading system, as the colour appearance of strongly coloured diamonds transitions from orangy yellow to orange the occurrence becomes progressively more rare -that is- the less yellow present the more rarely they occur.
The Orange joins the ranks of other notable fancy vivid orange diamonds, including the 5.54-carat Pumpkin diamond that was worn by actress Halle Berry at the 2002 Academy Awards. And in October 2011, a 4.19-carat fancy vivid orange diamond ring sold for a world record price of $2.96 million. The Orange, at 14.82 carats, may set a new record for an orange diamond sold at auction.
From Christie's:
Pure orange diamonds, also named 'Fire diamonds' by famous gemologist Edwin Streeter in his book The Great Diamonds of the World (1882), are exceptionally rare in nature. Among the very few fancy vivid orange diamonds that were ever sold at auction, the largest was less than 6 carats, making The Orange diamond, weighing 14.82 carats, the ultimate possession for diamond collectors.
Visit
Christie's
to learn more about the upcoming Magnificent Jewels auction.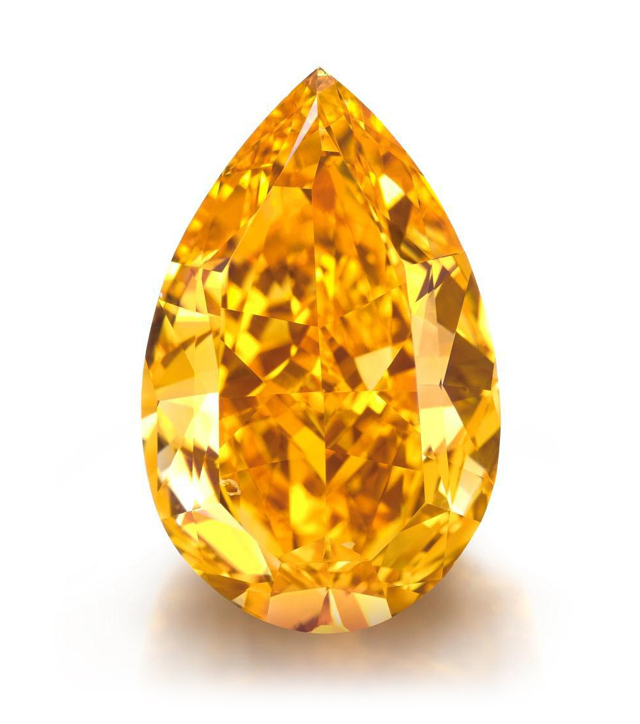 The Orange, a 14.82-carat fancy vivid orange diamond, is expected to fetch between $17 million and $20 million at Christie's Geneva on November 12, 2013. Image: Christie's
More on colored diamonds:

Video: Graff's Half-Billion Dollar "Hair & Jewel" Campaign

Mouawad's L'Incomparable diamond necklace for sale in Singapore

Trio of Pink, Blue, and Yellow Diamonds to Highlight Christie's Auction