By
Erika Winters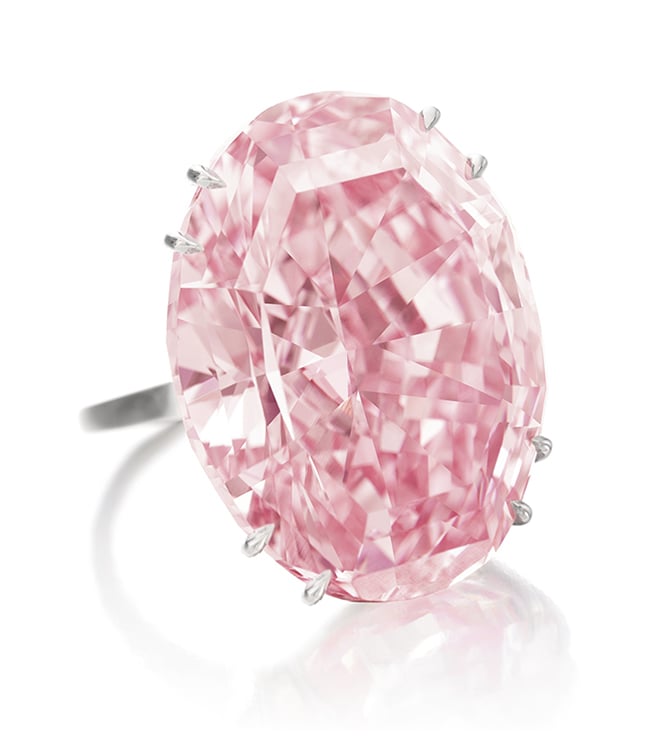 On November 13, 2013, the 59.60-carat Pink Star diamond set a world auction record, selling for $83 million at Sotheby's Geneva.
Known as the most valuable diamond ever offered at auction, the Pink Star surpassed its estimate of $60 million. "It's a large amount of money in itself but I don't think this stone has a price," said David Bennet, chairman of Sotheby's jewelry department in Europe and the Middle East.
From Reuters:
"Ladies and gentlemen, 68 million (Swiss francs) is the world record bid for a diamond ever bid and it's right here," Sotheby's David Bennett said to applause as he brought down the hammer in the Geneva salesroom.
Watch Sotheby's video on the Pink Star, including commentary from David Bennet.
The Pink Star is not only the most valuable diamond ever offered at auction, but it is also the largest internally-flawless, fancy-vivid pink diamond that the Gemological Institute of America (GIA) has ever graded. Exceptional for its size, color grade, and type, the Pink Star was graded "fancy vivid pink" by GIA, the highest grade a pink diamond can garner. The rare gem is also classified as a Type IIa diamond, a subgroup that represents less than 2% of all diamonds mined worldwide. Type IIa diamonds are known for their superior optical transparency and chemical purity.
"The occurrence of pink diamonds in nature is extremely rare in any size," said Tom Moses, senior vice‐president of the Gemological Institute of America. "It's our experience that
large polished pink diamonds – over ten carats – very rarely occur with an intense colour. The GIA Laboratory has been issuing grading reports for fifty years and this is the largest
pink diamond with this depth of colour (vivid pink) that we have ever characterised."
The pink diamond originated from a 132.5-carat rough diamond that was mined by De Beers in Africa in 1999. The diamond was cut and polished by Steinmetz Diamonds and named the Steinmetz Pink in 2003. The diamond was later sold and renamed the Pink Star.
The Pink Star is over twice the size of the Graff Pink, a 24.78-carat fancy intense pink diamond that set a world auction record by selling for $46.2 million at Sotheby's Geneva in 2010.
According to Reuters, the massive pink diamond was sold to a man bidding in the auction room on behalf of an anonymous buyer.
Visit Sotheby's to view full auction results and to see more images of the Pink Star diamond.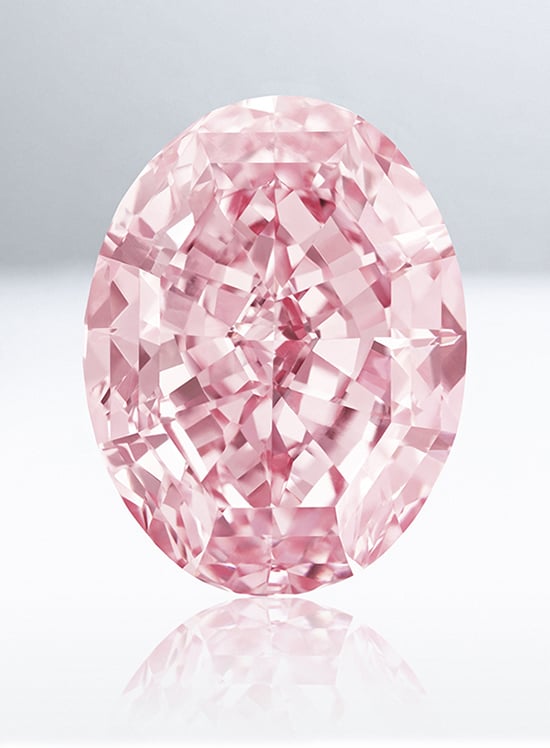 More jewelry auction news:
14.82-Carat Orange Diamond Sells for Record $35.5 Million at Christie's
Video: 118-Carat Diamond Could Fetch $35 Million at Sotheby's

Sotheby's to Auction Rare 7.59-Carat Fancy Vivid Blue Diamond