By
Erika Winters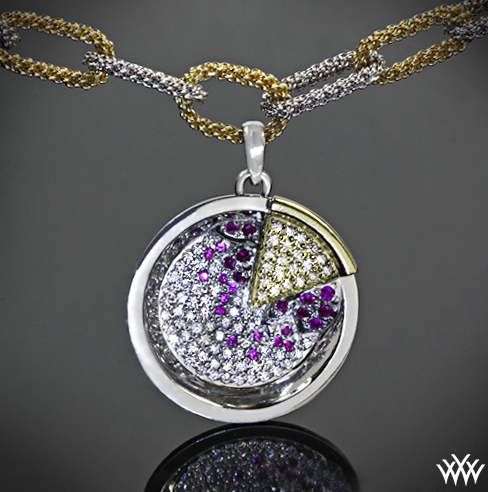 Will you skip the pie to shop on Thanksgiving Day?

Diamond pie necklace image courtesy of Whiteflash.
(The Whiteflash retail showroom will be closed on Thanksgiving Day.)

Black Friday and Cyber Monday seem a little quaint compared to the new holiday-shopping-day giant on the horizon, Thanksgiving Day.
The news is abuzz with stories on major retailers staying open on the traditional U.S. family holiday. And some consumers are angry on behalf of employees who will be working on the holiday. This year Kmart tops the list of extended Thanksgiving Day hours in addition to Macy's (which will be open on Thanksgiving for the first time ever), J.C. Penney, Best Buy, Sears, Toys R Us, and more.
Now we can imagine people at home with their families after a big Thanksgiving dinner shopping for, say, jewelry online. But some people say they will actually skip Thanksgiving dinner altogether to head out to shop at brick-and-mortar stores.
From the Chicago Tribune:
Last year, 23 percent of holiday shoppers said they would shop on Thanksgiving Day, up from 17 percent in 2011, according to a shopping survey by Deloitte.
A different poll found nearly 1 in 7 shoppers admitted to skipping Thanksgiving dinner, rushing through it or starting early to participate in Black Friday sales. Some chose not to travel to a relative's house in favor of shopping, according to the poll released by PromotionalCodes.com and conducted online by Harris Interactive.
And though extended retail holiday hours are fairly common for some brick-and-mortar shops, online shopping has changed the landscape. Brick-and-mortar shops (many of which double as online shops) feel compelled to open on Thanksgiving Day to compete.
More from the Chicago Tribune:
"Brick-and-mortar retailers can no longer allow online retailers to have an untethered opportunity to sell to the consumer during Thanksgiving Day," said Marshal Cohen, chief industry analyst at market research firm The NPD Group.
"Retailers are saying, 'We need traffic in the stores. That's what gets us growth,'" he said.
We can imagine many people will shop online on Thanksgiving Day and venture out on Black Friday and the rest of the weekend to commence the 2013 holiday shopping ritual. But are you planning to shop in-store ON Thanksgiving Day? Please vote!
Related forum and blog topics:
Wishbone jewels for Thanksgiving Day